World Green Roof Day: the power of green roofs
6 June 2021
It's World  Green Roof Day, a celebration of green roofs all over the world and the many benefits they bring to people and nature. We see increasingly more green roofs around us, which are roofs that are covered with vegetation and give a roof a green look. By installing a green roof a roof does not only get a beautiful green appearance, it also brings many benefits. A few benefits of green roofs below.
Flat roofs are fully utilized by applying green roofs
By applying a green roof, unused flat roofs can be utilized in a multifunctional way. In areas where there are many flat roofs, a green roof can be installed. A flat roof can also be used for sedum roofs in areas where there is no space for greenery. This makes it easy to apply greenery and create a green environment.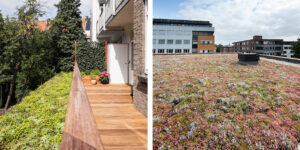 Green roofs provide cooling
Due to climate change, summers are getting hotter. Especially in urban areas where the presence of greenery is limited, the heat does not go away. Greenery absorbs heat and has a cooling effect on the environment. Research has shown that a green roof cools down the indoor temperature up to 4 degrees and the near environment up to 2 degrees.
Green roofs capture rainwater
Climate change also causes an increase of the intensity and frequency of rainfalls. This creates a peak load on the sewer system because the big volume of runoff water has to be drained. A sedum roof van help with this because the plants in a green roof captures the rainwater. A green roof also evaporates the rainwater up to 40 to 70%. A green roof can therefore help with the consequences of climate change.

View on a sedum roof has a stress-reducing effect
Research has shown that having a green outlook has a positive effect on well-being. A view on a green a green roof reduces stress and increases positive feelings. In the busy city life where greenery is not available in abundance, the applications of green roofs in, for example gardens, is very useful.
Green roofs contribute to biodiversity
A sedum roof not only benefits people, but it also stimulates biodiversity. A green roof provides food and nesting for bees, butterflies and birds. A beautiful view in the garden when you look out on a  green roof with various animals.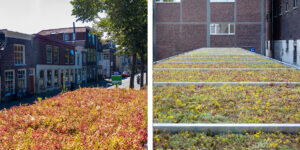 World Green Roof Day with Mobilane MobiRoof
Green roofs can be easily applied with the MobiRoof instant green roof system. MobiRoof consists of a system of sedum cassettes which simply click into each other. Green roofs can be applied to several types of roofs. On bus stops, cycle shelters, public toilets, hotels, but also in gardens or on balconies. Green roofs can be installed everywhere. The application area is endless. Contribute to World Green Roof Day by installing a green roof!