Consumer
Business
Landscaper
Ready-made sustainable sedum cassette for a green roof
Consumer
Business
Landscaper
MobiRoof ECO is a ready-to-use green roof system that consists of a plant cassette filled with substrate, and available with two selections of plants. MobiRoof ECO – Sedum is provided with 6 to 8 different types of sedum, while MobiRoof ECO – Sedum & WildFlower is provided with the same sedum and a wild flower mix comprised of a variety of native flowers, flowering herbs and ornamental grasses (20 to 24 species).
The cassettes are easily placed against each other, creating a green roof immediately. MobiRoof ECO is an extensive green roof system suitable for flat roofs and  roofs with a slope angle of up to 10 degrees (20%) and always remains moveable.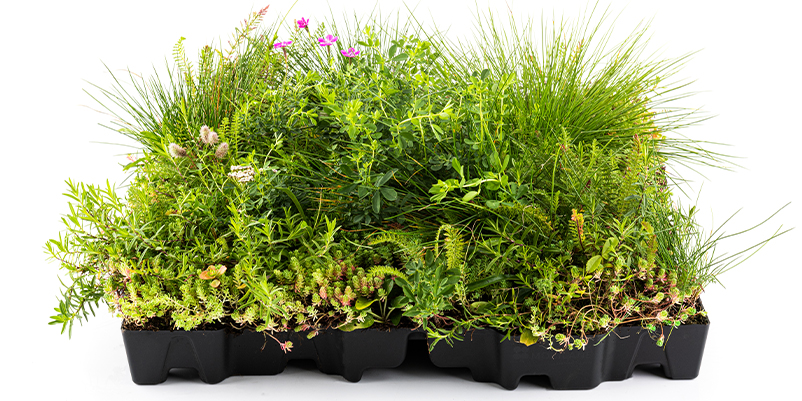 Ready-made cassette
The unique lightweight cassette system is planted with different types of sedum plants and equipped with a substrate that, in addition to the function of growth medium, ensures drainage and storage of water. Additionally is that the cassettes can also be replaced. This allows the sedum roof to be designed according to your requirements.
A sustainable green roof for a green future
MobiRoof ECO is a circular green roof system. The cassette is made of recycled material and fully recyclable. This reduces environmental pressure and reduces waste flow. The cassettes are pre-grown locally with cuttings from our own nursery.
Sedum plants 
The plants improve air quality through CO2 reduction as well as capturing fine particles. UV rays no longer reach the underlying roof, which considerably extends the lifespan of the roofing material. The sedum cassettes also protect the roof against the effects of weather and help store rainwater.
Enhancing biodiversity further
Insects like bees are essential to our biodiversity. They play a crucial role in the pollination of our nature and contribute to the reproduction and development of our flora. The plants and flowers that grow as a result provide food and shelter to other animals, including humans. A professional bee hotel or nesting box provides a safe nesting, resting, and overwintering place. 
The nesting boxes and bee hotels are made in a social workplace using sustainable Dutch Douglas wood. All nesting boxes and bee hotels comply with the guidelines of BIJ 12. These boxes are perfectly suitable for meeting the requirements of the Nature Conservation Act or for use in achieving BREEAM certification, which requires the placement of nesting boxes.The nesting boxes and bee hotels can be placed in or around all outdoor products from Mobilane and are available in various types and sizes. Please refer to the accessories page for more information.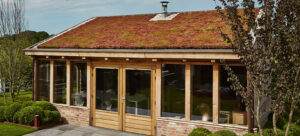 Benefits of MobiRoof ECO
Collection and buffering of rainwater
Stimulates biodiversity
Insulating and sound-absorbing effect
Extends the life of the roof
Aesthetic value
Increases the value of real estate
Increased efficiency of solar panels
Eligible for subsidies and tax breaks
Unique features MobiRoof ECO
Ready-to-use cassette with substrate and sedum plants
Lightweight green roof system
Ready for use as roof cover
Easy to install and replace
Water retention of 20 litres per square metre (optional 30 litres per m2)
Sustainably and locally produced
Circular, recycled and fully recyclable
Low maintenance
Can be used on both flat and slightly sloping roofs
Buy direct