Green bus stops in Haarlem help stimulate urban ecology and biodiversity
MobiRoof ECO
Location: Haarlem, the Netherlands
A series of bus stops in Haarlem have been fitted with green roofs, installed by JCDecaux. JCDecaux, the global market leader in outdoor advertising and urban furniture, has been working with green roof specialists Mobilane to give the bus stops a natural planted roof covering. Designed using MobiRoof, the ready-to-use extensive green roof system, consisting of cassettes containing 6-8 different types of succulents, this is another successful green roof bus shelter project following in the footsteps of other installations in Utrecht, Gouda, Apeldoorn, Woerden, Leipzig (Germany), Helsingborg (Sweden) and Malmö (Sweden).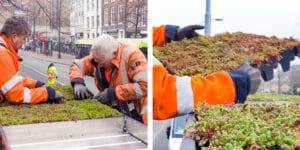 Bus shelter roofs have until recently been blank bare coverings but since the first 300 green roofs on bus shelters were installed in Utrecht, it has become a worldwide phenomenon. These green bus stops generated global interest and drew the attention of other local authorities and community organisations who were looking into the potential of green roofs in urban environments. The green-roofed shelters now play an important role in stimulating ecology and biodiversity in urban areas.
Nature in the city
Urban ecology is the study of nature in a city environment and the ecological conditions and processes affecting it. Developing a balanced urban ecology helps stimulate the biodiversity of plants, insects and wildlife in cities. Local authorities are increasingly appreciative of the added value this brings and are adopting a more "nature-inclusive" attitude to the design of built environments. This helps connect wildlife corridors, helping them find one another, co-exist and ultimately prevent the potential disappearance of species altogether.
There is a direct relationship between greenery, house values and a healthy commercial climate. Greenery, water and nature are important for health, well-being, social interactivity and environmental awareness. Urban ecology ensures that these relationships are taken into account in local governmental policies.
Ready-to-use extensive green roof system
With the ready-to-use green roof system MobiRoof from Mobilane, it is simple and quick to install a green roof. Its unique lightweight cassette system is planted with different types of Sedum plants and provided with a special substrate for drainage and storage of rainwater. Straight from installation, you have a fully-covered instant green roof.