Green roofs for public toilets
4 February 2021
Green roofs for public toilets? This is one of the many possible ways to use green in the public space. Green roof systems can be used in various ways in urban areas. A sedum roof can, for example, be installed on a bus shelter or bike shelter, but it is also possible to install green roofing on the roofs of public toilets. The use of greenery on roofs contributes to creating environmentally friendly toilets. In Dortmund, this has already been put into practice and living roofs have been installed on the public toilets. In this way, a flat roof is fully utilized in cities and greenery can be easily applied. A green roof offers various advantages and has a positive effect on both humans and animals.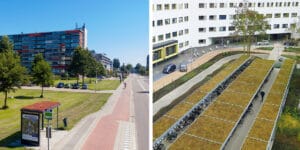 An environmentally-friendly toilet with green roofs
By installing green roof systems on public toilets, environmentally friendly toilets are created with many advantages. One advantage of a sedum roof is that it collects rainwater. Since there is little greenery in the public space that slows down the drainage of rainwater, there is a peak load on the sewer. To reduce the water load on the sewer, living roofs are a good solution. A sedum roof collects rainwater and per m2, a total of 150 litres of water can be collected. Furthermore, the plants in the green roof are able to evaporate 40 to 70% of the rainwater. Therefore, less water will run off the roof. The substrate layer in the sedum roof also contributes to the collection of rainwater up to 50 to 80%. Living roofs on the toilets in the public space, therefore, contribute to the collection of rainwater and decrease of peak load on the sewer.
Green roofing on public toilets contributes to health
Green roofing on public toilets also contributes to the improvement of health. In cities, fine dust is present which causes air pollution. A sedum roof catches fine dust and improves the air quality. In addition, green roof systems on toilets in the public space also have a noise-reducing effect. The ambient noise in urban areas can be reduced by 3 to 10 dB. A living roof also bounces off 3 dB less noise. People in urban areas will experience less noise disturbance. The outlook on green also has a positive influence on health. A view on a roof with greenery on public toilets or bus shelters reduces stress and improves concentration. It also contributes to a positive experience of the environment.

Easily a green roof
Green roofing on public toilets is easily installed with the Mobilane MobiRoof. Mobilane is the official supplier of green roofs on public toilets in Dortmund. The green sedum roofs are quick and easy to install with the MobiRoof which consists of cassettes with 6-8 different types of pregrown sedum plants. The ready-to-use cassettes simply click into each other and a sedum roof is easily installed on unused flat roofs.
A price request? Leave your details here: