Business
Landscaper
Installer
Consumer
An all-in-one living wall system
Business
Landscaper
Installer
Consumer
LivePanel PACK is a green wall system in an all-in-1 package in three standard sizes. With this modular green wall system, a green wall can be installed quickly and easily, ideal for rooms with one or more small wall surfaces. The modular living wall system consists of interchangeable plant cassettes with slots that are placed in gutter profiles that serve as a water reservoir. These profiles are easily filled with water by hand.
LivePanel PACK is available as a complete living wall package in three sizes:
LivePanel PACK 2×3            LivePanel PACK 3×2            LivePanel PACK 6×4
Dimensions: 0.87 x 1.57m    Dimensions: 1.27 x 1.09m      Dimensions: 2.48 x 2.06m
Surface Area: 1.37m²            Surface Area: 1.38m²              Surface Area: 5.10m²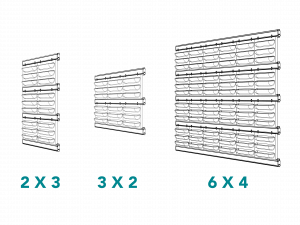 LivePanel PACK is suitable for installation against new and existing walls, both indoors and outdoors. The various sizes and creative plant options make LivePanel PACK a flexible, space-saving green wall system with an unlimited range of applications. The green wall system is ideal for offices, at home, schools, showrooms, shops and window displays, hotels and restaurants.
Benefits
A healthy working, learning, or living environment
Aesthetically pleasing
An increase in productivity and creativity
Has a small footprint
A pleasing ambience
Features
A complete green wall system in one package
Exchangeable plant cassettes for a dynamic view
A water supply to last 1-2 weeks
Works without electricity, water connection, water drainage or irrigation system
Short installation time
Smart and silent water level indicators
Suitable for use indoors and outdoors
Fully recyclable
View accessories