The EDGE London at the London Design Festival 2021 with Mobilane
17 September 2021
The EDGE London, the city's first sustainable construction and design resource centre, is making its debut at the London Design Festival 2021. The EDGE will showcase circular and sustainable products and materials suitable for living and workspaces. In collaboration with the EDGE, Mobilane has provided LivePicture, LiveDivider PLUS and LivePanel Indoor to be showcased in the EDGE showroom.
The EDGE
With sustainability, circular economy, longevity and zero waste at its highest priority, the ECO Design Green Environment (EDGE) was launched in May 2021. Taking part in the London Design Festival, the EDGE is hosting talks on the topic of London's Circular Construction and Design Future for the home as well as the office. Architects, designers, specifiers, but also the general public are invited to come to the showroom and experience the products that are used to build and design more environmentally conscious.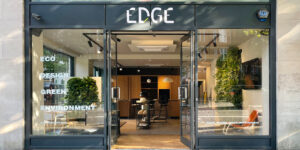 Mobilane and sustainability
Aligning with the EDGE's aims, Mobilane has provided sustainable products such as the LivePicture, LiveDivider PLUS and LivePanel Indoor which are showcased in the showroom. LivePicture is a space-saving vertical plant picture where innovation, design and greenery come together. LiveDivider PLUS a modular green room divider that can be stacked on top of each other according to preferred height. LivePanel Indoor is a modular living wall system with complete freedom in design. All products are sustainable and fully recyclable, producing zero waste.
London Design Festival
The 19th edition of the London Design Festival is being held from 18 to 26 September 2021. Its vision is to celebrate and promote London as the design capital of the world. London Design Festival was launched in 2003 with the thought of being an event that would promote the city's creativity, involving the country's greatest thinkers, practitioners, retailers and educators to celebrate design. Mobilane is delighted to be part of the London Design Festival through the EDGE London.
To find out more about how to visit the EDGE, please click here.