A designer room divider for healthy air quality
30 September 2021
LiveDivider PLUS is a designer room divider with real plants that contributes to a healthy indoor climate. The plant room divider is an item of sustainable design furniture that easily divides rooms in multiple ways.
Designer furniture for offices, hotels and open spaces
At Mobilane, we believe that design is a combination of aesthetics, functionality and sustainability that is brought to life through skilled work with materials with the highest quality. LiveDivider PLUS is a designer piece of furniture, designed for a sustainable and healthy future. The timeless room divider is modular which makes various applications to be realised in a fast and easy way. An efficient and stylish solution for separating areas such as offices, hotels, restaurants and waiting areas.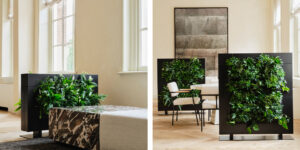 The LiveDivider PLUS can be configured to a maximum of 3 modules high. The height varies from 81 cm to 180,5 cm high. The room divider can be reconfigured to meet changing needs.
Improve the air quality with a plant room divider
LiveDivider PLUS has space for 50 to 100 plants, depending on the number of modules. The plants contribute to better air quality. The plant mix "Breath of Fresh Air" from Mobilane has been scientifically proven that it contributes to improving air quality:
– CO2 is effectively converted into oxygen
– Harmful substances and gasses are neutralized
– Improvement of humidity through regulating evaporation process.


Benefits of a green room divider
Next to improving air quality, the plants bring many other benefits. Rooms with plants have a stress-reducing effect, increase the general well-being of the users and are perceived to be more attractive.
The minimalist, modular system adapts effortlessly to any interior design. The steel design comes in two standard colours and is available in any desired colour on request. View the PlantGuide for suitable plant species for the LiveDivider PLUS.