The modular green room divider
LiveDivider PLUS, the new version of LiveDivider, is a modular green room divider. This unique system allows modules with interchangeable cassettes that serve as planters to be stacked on top of each other as you wish. This creates more freedom for the flexible division of spaces while surrounding people with greenery. Remote working and flexible workstations have become the new standard in the design and refurbishment of offices. After all, offices today are serving more and more as places where employees come to meet with one another in an inspirational environment where they feel at ease. Plants make a valuable contribution to such an environment.

Privacy and distance with the green room divider
The LiveDivider PLUS makes it easy to arrange and divide large spaces exactly as you want them. This is precisely what makes this room divider so well suited for use in offices, waiting rooms, hotels, public buildings and more. This plant room divider is also an ideal solution for defining pedestrian routes for social distancing. Plants enhance the space for the well-being of employees and visitors. LiveDivider PLUS creates more privacy and distance while retaining the open aspect of a given space. The system consists of individual modules made of steel with interchangeable cassettes that serve as planters. Plants can be interchanged to adapt to the season, theme or a specific occasion.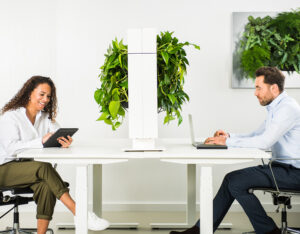 Designer furniture for any office
The modern and timeless room divider is made of high quality, powder coated steel. Its streamlined design and sleek lines make a genuinely impressive green statement in any interior. The modules are installed on a solid base plate. A watering system with a tank is incorporated into each module. This ensures that the plants are supplied with the right amount of water and plant food for up to six weeks. LiveDivider PLUS does not require any electricity, pumps or drainage systems and can therefore be installed in many different places.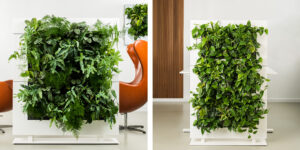 Available colours
The LiveDivider PLUS is available in white and as a black plant room divider and can be supplied in any RAL colour on request.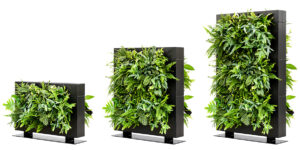 Benefits of LiveDivider PLUS
A simple and sustainable way to divide spaces
Improves acoustics and dampens sound
Improves the indoor climate and air quality
Improves concentration, productivity and general well-being, reducing stress
Takes up little space
Unique features LiveDivider PLUS
Modular and multi-applicable
Maintains water supply for 4-6 weeks, with water level gauge
Sustainably reusable and fully recyclable
No electricity, pump or water drainage required
Low maintenance
High quality design
Free-standing with plants on both sides
Interchangeable planter cassettes with space for different types of plants
View accessories
Where to buy