Living wall Chelsea Flower Show 2021
17 September 2021
Partnering up with BALI, Mobilane has provided a living wall for the Chelsea Flower Show 2021. The Chelsea Flower Show, the world-famous garden show where world-renowned garden designers, plants specialists florists and nurseries come together in Chelsea to present new garden designs and floral exhibits, is being held from 21 until 26 September 2021. Attracting more than 150,000 visitors every year, the Chelsea Flower Show is one of the prestigious events which is looked forward to. Mobilane has designed and installed the living wall for the BALI exhibit at the Chelsea Flower Show.
BALI at Chelsea Flower Show 2021
Mobilane has been member of BALI, the British Association of Landscape Industries, since 2013. BALI was established in 1972 and promotes, supports and inspires members such as landscape contractors, landscape architects, garden designers and suppliers to be leaders of an environmentally, ethically and commercially sustainable landscape service industry. Supporting these values, Mobilane is proud to have partnered up with BALI for the living wall at the Chelsea Flower Show. The LivePanel Indoor is showcased at stand EA496 and the stand has been awarded with the 5 star tradestand award.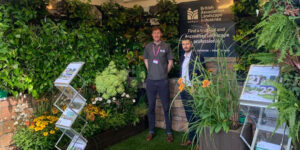 LivePanel Outdoor living wall system
The green wall system displayed at the Chelsea Flower Show is the LivePanel Outdoor system from Mobilane. LivePanel Outdoor is an innovative sustainable living wall system for use in a multitude of vertical scenarios. It is a modular green wall system with exchangeable plant cassettes. Each row of plant cassettes is placed in a gutter profile that serves as a water reservoir. The plants absorb water from the reservoir through capillary action. This makes the maintenance of the living wall easy. The green wall can be compiled completely according to one's own taste and preferences. The vertical living wall does not only look aesthetically pleasing, it has many benefits such as air purification, stimulation of biodiversity and sound absorption.