Greening the Moevenpick Hotel in Stuttgart
LivePanel
Location: Stuttgart, Germany
Architectural elegance and a relaxing ambience are central factors incorporated into the design hotel of Mövenpick Hotel at Stuttgart-Airport. The LivePanel green wall system provides both: a naturally sustainable backdrop that improves the air quality and well-being of those around it as well as looks stunning. This "botanical architecture" is typical of the work of well-known Italian architect and designer Matteo Thun and this is clearly reflected in his latest project design at the Hotel.
A soothing natural environment
The stylishly designed lobby and its green oasis encourage guests to relax and unwind from all the hustle and bustle of traveling. This well-executed interior concept provides peace, comfort and offers a welcome respite from the hectic pace of its surroundings.
The design uses fresh pastel tones, light woods and an abundance of plants. The two focal planted elements really stand out: the LivePanel living walls, bursting with real plants. These green walls not only look attractive, but they also contribute to a healthier indoor climate, cleaning the air and producing oxygen whilst improving the room acoustics in the room.
Achim Eilingsfeld of executive company Gefässerie is very pleased with the green walls.
"It was a demanding project! We needed to ensure the technicalities of installing a freestanding 8.45-metre-wide and 1.6-metre-high room divider were spot on.  It was a really exciting challenge, and one that was perfectly solved with a green wall."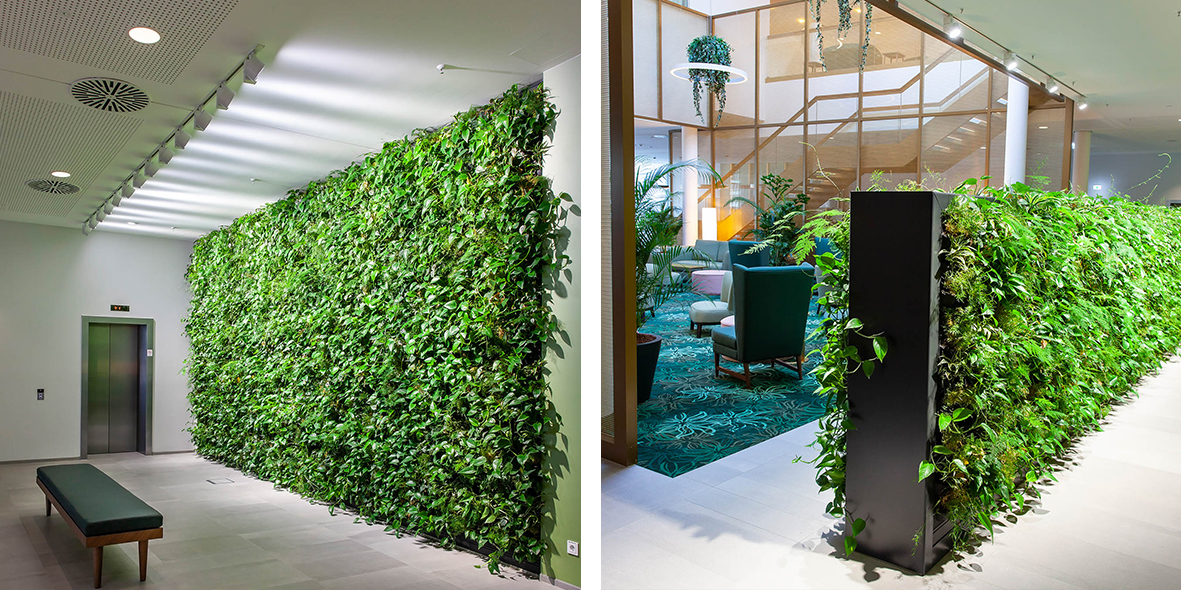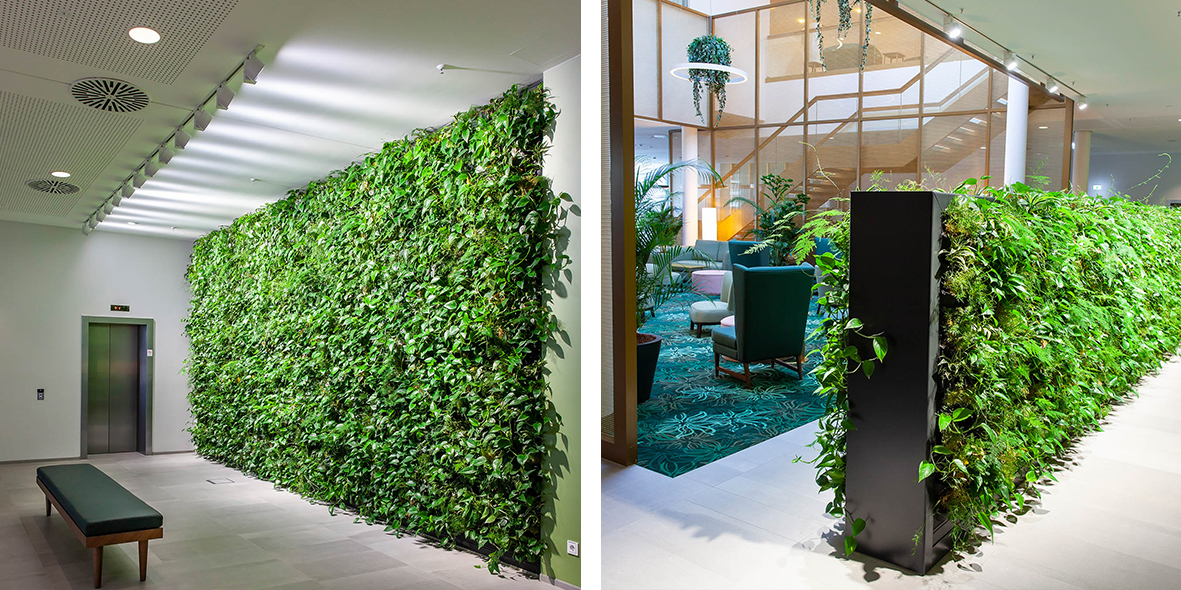 Technical freedom and flexibility
A total area of ​​58.2 m2 was planted with the patented LivePanel system. This is a modular, fully recyclable vertical green wall system with substrate-filled, exchangeable plant cassettes with a module size of 40 x 40 cm. The Mövenpick Hotel opted for the sustainable LivePanel green wall system because of the technical freedom and flexibility this allowed them in the designs, plus the green wall has instant impact, right from the offset – a huge bonus!
The nature of the pre-cultivated cassettes meant that they could be clicked into the system just before the Hotel's grand opening. In total, 280 cassettes have been grown filled with more than 2500 plants. Asparagus, asplenium and Philodendron scandens and Scindapsus aureum were used for the green wall. This mix immediately creates a lush green effect and requires very little maintenance.
Quick and easy system
The installation of the LivePanel system is quick and easy. Each row of plant cassettes is placed in a gutter that also serves as a water reservoir. The plants provide themselves with exactly the right amount of water from the profile due to the capillary effect. The plant cassettes are circular and the other components of the system are fully recyclable.
Want to see more of the hotels we worked for? Here we placed a green walkway at the Van der Valk Hotel in Amersfoort!