A 10-metre high vertical green wall in the head office of Moba
The head office of Moba in Barneveld is provided with a wide range of greenery by the experts of Ten Brinke Interieurbeplanting, including a 10-metre high green wall with the LivePanel Indoor system.
Plant wall at Moba
The vertical green wall is 10 metres high and nearly 4 metres wide. A television is also integrated into the green wall. Moba is the world's leading manufacturer of machines for sorting, packing and processing eggs. Moba was founded in 1947 and has become a company with offices all over the world and a team of 800 dedicated employees.
Green wall Moba: soothing yet striking and a true eye-catcher
The green wall full of real plants creates a pleasant ambiance at the entrance of the head office. It improves acoustics, ensures air purification and contributes to a healthy indoor climate. Next to the many benefits of living walls, a green wall also saves space and ensures a pleasant working environment. The green wall gives an extra dimension to the room, is soothing yet striking and a true eye-catcher in any interior. An impression that visitors will not easily forget. Read here more about the benefits of vertical green in the office.
Plant wall with patented technology
LivePanel Indoor is an innovative and modular green wall system that transforms bare walls into warm vibrant displays, instantly. The patented LivePanel Indoor system has a few unique characteristics. The plants in the green wall receive water through capillary action. Paul Gerretschen, purchase and planning employee at Ten Brinke Interieurbeplanting about LivePanel Indoor: "The LivePanel system is a very easy to install system and not difficult to maintain. We mainly have good experience with a mix of hanging plants. For projects like Moba, where's a lot of sunlight, we mainly use hanging plants such as Ferns, Syngonium, etc.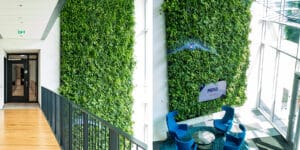 Since the green wall is placed vertically, a large green surface is created without sacrificing extra space. The system is modular and can be installed around doors, windows or televisions and is available in any dimension. For big projects like Moba, Ten Brinke Interieurbeplanting and Mobilane work closely together. "Mobilane's Technical support offers support with the installation of the irrigation unit and technical installation. Due to this personal contact, the collaboration is always very pleasant" says Paul Gerretschen.
Read more about the benefits and features of LivePanel Indoor.