Plants on the wall with LivePanel PACK
25 October 2021
Plants on the wall are indispensable. Nowadays, it is well known by many that plants have a positive influence. It often occurs that there is a preference for greenery in the house but a lack of space prevents this. An innovative solution is to add vertical greenery to the interior. Think of plants as wall decoration or an entire wall covered with plants. A simple way to bring many plants into the home is through a plant wall. Create an oasis of green at home with plants on the wall with LivePanel PACK from Mobilane.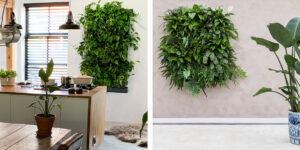 A green eye-catcher at home
A plant wall is literally a green eye-catcher in your home. It immediately attracts the attention of family and friends who come for a visit. Living greenery on the wall guarantees enthusiastic reactions and compliments. A vertical green wall can be installed almost everywhere in the house. A plant wall can be installed in the living room, bedroom or kitchen. A not so obvious spot is for example the wall next to the stairs or even in the bathroom. Vertical greenery does not only take up little space, it also contributes to improving the indoor climate and reducing stress.

Plants on the wall with LivePanel PACK
With the LivePanel PACK from Mobilane, a green wall can be easily added to the interior. The all-in-one green wall system is available in 4 different standard sizes: LivePanel PACK 2×2, LivePanel PACK 2×3, LivePanel PACK 3×2 and LivePanel PACK 6×4. It is a modular living wall system consisting of interchangeable plant cassettes with slots that are placed in gutter profiles. The gutter profiles serve as a water reservoir and the LivePanel PACK is watered by hand. Due to the quick and easy installation, plants on the wall can be realised in no time. Interested in greenery but lack of space for a green wall? Have a look at the LivePicture GO from Mobilane.
Do you want plants on the wall with LivePanel PACK? Have a look at our where-to-buy page to find a stockist near you.