MobiRoof ECO: the sustainable sedum cassette for a future-proof green roof
30 August 2021
MobiRoof ECO is a circular green roof system. The cassette is made of recycled material and is fully recyclable. This ensures less harm to the environment and limits waste streams. The cassettes are pregrown locally with cuttings from the own nursery.

Circular green roof
The MobiRoof ECO cassettes are made of regenerated polypropylene (PP). This type of PP is a strong, sustainable and fully recycled and recyclable material. This ensures less waste streams and less harm to the environment. Part of the material is recovered from our own waste stream. When the products of Darthuizer Group ( parent company Mobilane) are written off, it is used as raw material for the MobiRoof ECO cassettes. This way, we make full use of the materials and raw materials for all the companies from the group.
Long lifespan
PP is resistant to all weather conditions, bacterial growth and is a material that lasts. MobiRoof ECO is therefore a reliable product with a very long lifespan. The cassettes are always replaceable.
Sustainably grown
The MobiRoof ECO cassettes are planted with different types of Sedum. The cuttings for the production come from our own nursery. We grow so-called mother plants using beds. These plants are grown under stable, natural and ecological conditions. Once the plants have reached a certain height, they are mowed. The result is sedum cuttings. These cuttings are used for the production of green roof cassettes. By using our own cuttings, not only is the quality of the MobiRoof ECO cassettes guaranteed but the production chain is also reduced which means less transport and limited CO2 emissions.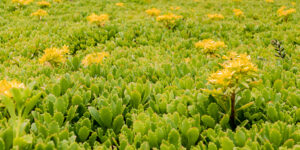 A future-proof green roof
The circular and sustainably grown MobiRoof ECO cassettes are suitable for sustainable, climate-adaptive and future-proof construction. A green roof contributes to building labels such as BREEAM, LEED or GPR.