A vertical herb garden
3 August 2021
LivePicture GO, the indoor and outdoor living picture, is next to plants also suitable for herbs. This way you always have fresh herbs at your fingertips and you can make the most delicious dishes with fresh herbs in no time.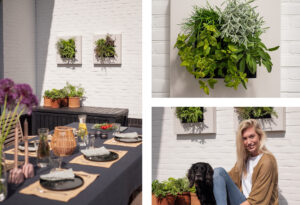 The vertical herb garden
The LivePicture GO provides space for 4 to 6 herbs or plants. The frame of the LivePicture GO serves as a water reservoir which ensures that the herbs have sufficient water for more than 4 weeks. You fill the LivePicture GO with water through the filling opening. A red empty detector will appear beneath the LivePicture GO when the plants need more water.  
Fresh herbs for every kitchen, garden or balcony
The LivePicture GO can be installed on the wall both indoor and outdoor. A vertical garden takes up little space and is therefore suitable for any kitchen, garden or balcony. Make sure that there is sufficient (sun)light, this is important for the growth of the plants or herbs. 
Always instant fresh herbs
Herbs such as parsley, mint, rosemary, oregano, basil can be easily planted in the slots of the cassette. Make sure the roots are wet well. Once the cassette is planted, you simply click the cassette into the frame and create a vertical herb garden.
Do you also want a vertical herb garden? Have a look at the where-to-buy page for a stockist near you.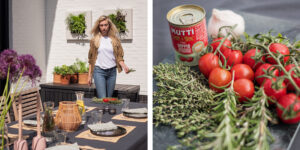 Pasta sauce with basil oil and herbs from your own vertical herb garden
INGREDIENTS
(For four people)
–  500 grams of ripe tomatoes
– 4 sprigs of oregano
– 4 sprigs rosemary
– 1 onion
– 2 garlic cloves
– can of tomato paste
– 1 tablespoon basil
– olive oil
– pepper & salt
– fresh spaghetti
– cherry tomatoes
– grated parmesan cheese
PREPARATION
Tomato sauce
Heat the pan with a little olive oil and fry the onion and garlic. Add the tomato paste, thyme and oregano. After 2 minutes, add the ripe tomatoes, lower the heat and let it simmer with the lid on the pan for half an hour. Puree the tomatoes into a sauce. 
Basil oil
Blend the basil with olive oil with a pinch of salt and pepper in the blender. 
Mix part of the tomato sauce with the fresh spaghetti and grated parmesan cheese. Twirl the spaghetti and plate the spaghetti with the remaining tomato sauce, cherry tomatoes and basil oil.