Consumer
Business
Landscaper
GO for O2
Consumer
Business
Landscaper
LivePicture GO allows you to add a playful splash of vertical greenery to your living, learning, or working environment. You don't even need to have a green thumb to take care of the plants: the water gauge indicates when the reservoir needs refilling. The tank has sufficient capacity to water the plants for approx. four weeks. The capillary action built into the plant cassette ensures the plants always get the right amount of water.
New: LivePicture GO Bamboo
LivePicture GO Bamboo, made of sustainable bamboo fiber, is the latest addition to our range. Bamboo is a natural and sustainable material with a low environmental impact. Bamboo is biodegradable and 100% recyclable. This natural and sustainable material ensures that all LivePicture GO units are unique. It's not just the plants that make LivePicture GO Bamboo the perfect green solution; it's the frame too.
Colors
LivePicture GO is available in three colors: White, Bamboo Natural and Bamboo Black.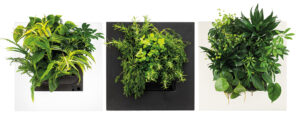 Simply green
Simply plant up the slots in the removable plant cassette with varieties of your choice to suit your preference, taste, or theme.  With LivePicture GO, there are no limits to your creativity — this system is perfect for indoor and outdoor use, whether as a single frame or in a group. Use multiple GOs to create your own fun wall collage. Our wall-mounted plant masterpiece is easy to install and comes with two screws and an installation template included.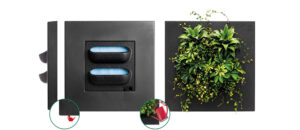 Herbs on Hand
Fancy instant fresh herbs in your kitchen, ready when you are? LivePicture GO can also be used as a go-to herb garden: the system is ideal for different types of herbs, such as mint, thyme, parsley, and chives. That way, the fresh herbs you need to flavor any dish are always within reach.
.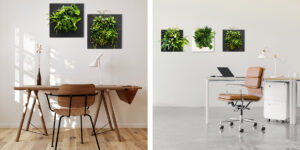 PlantGuide
Take a look at our PlantGuide for an overview of the plant species we recommend for use with LivePicture GO.
Benefits
A healthy environment
Plant care made easy
Increased productivity and creativity
Space-saving solution
A playful addition to the living and working environment
Features
Lightweight
Unique patented system
Water reservoir (approx. four weeks) with 'empty' and 'full' gauge
For indoor and outdoor use
100% recyclable
Buy now