New Brabantia headquarters has a sustainable eye-catcher with living green walls
The new headquarters of interior design brand Brabantia in Valkenswaard was recently completed. Several green living walls have been installed in the office, contributing to the company's sustainable image. The entire office was built according to the BREEAM standard, designed by Gert Jan Kruijning of AA Architects. The vertical greenery in the building was installed by Ten Brinke Interieurbeplanting.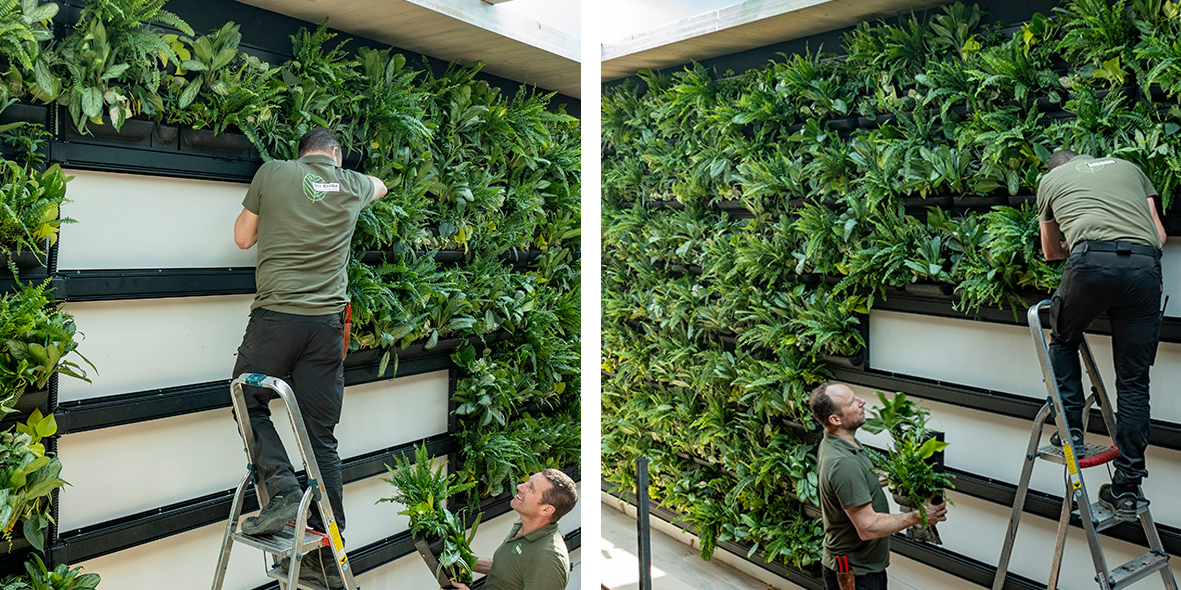 Sustainable Design
Brabantia's new head office was built climate-neutral according to BREEAM standards. The building's skeleton is made entirely of wood. The green walls in the office bring in the more natural look and also provide many benefits such as oxygen production and an improved indoor climate.
Thomas Deenen, Commercial Director Brabantia Benelux & DACH: 'Implementing vertical greenery in the design was an idea of the architect, following Brabantia's requirements. The requirements were; lots of green, sustainable, pleasant atmosphere and a natural transition from outside to inside. The green living walls are a real eye-catcher, a real image-defining part of the interior. The vertical green looks very nice, gives a warm and natural feeling and a fresh smell'.
Innovative and sustainable green wall system
The green walls were installed by Mobilane dealer Ten brinke Interieurbeplanting using the LivePanel Indoor system. LivePanel Indoor is an innovative and sustainable system in the field of vertical greenery. It is suitable for installation against new and existing walls. It is possible to water the green walls manually, automatically or by means of a tank. For the walls at Brabantia, automatic watering was the option chosen.
A century of quality and design
Brabantia started out in 1919 as Van Elderen & Co in Aalst, producing milk churns, jugs, sieves and funnels. Over the years, Brabantia has grown into a global interior design brand, known for its smart and stylish household products.
Client: Brabantia
Architect: AA Architecten
Construction period: 2022
Installation: Mobicare
See the result below.