Liverpool waterfront apartments combine hard landscape with a softer, natural living wall option
LivePanel
Location: Liverpool, United Kingdom
Dealer: Oasis Plants
Another great example of the LivePanel living wall at Liverpool waterfront apartments. Modern building designs often create clean, crisp lines and an urban streetscape of hard landscaping and walkways.  Adding a natural element might be considered a challenge as space, access and amenity compete, leaving little leeway for extensive planting.  There is, however, the most beautiful of options available: the living wall.  A solution that can allow a vibrant living expanse of planted material on a vertical plane. And that is exactly what has been achieved with this Mobilane LivePanel installation alongside this prestigious new residential development on Liverpool's waterfront.
Install, plant, irrigate, enjoy
Eighty square metres of LivePanel living wall stands proud alongside the apartment block entrance and esplanade at this development in Sefton Street, Liverpool. 
Plant selection was planned in detail with consideration of the wall's location alongside what will be a busy thoroughfare, its restricted light exposure and ongoing maintenance opportunities for this LivePanel living wall at Liverpool waterfront apartments.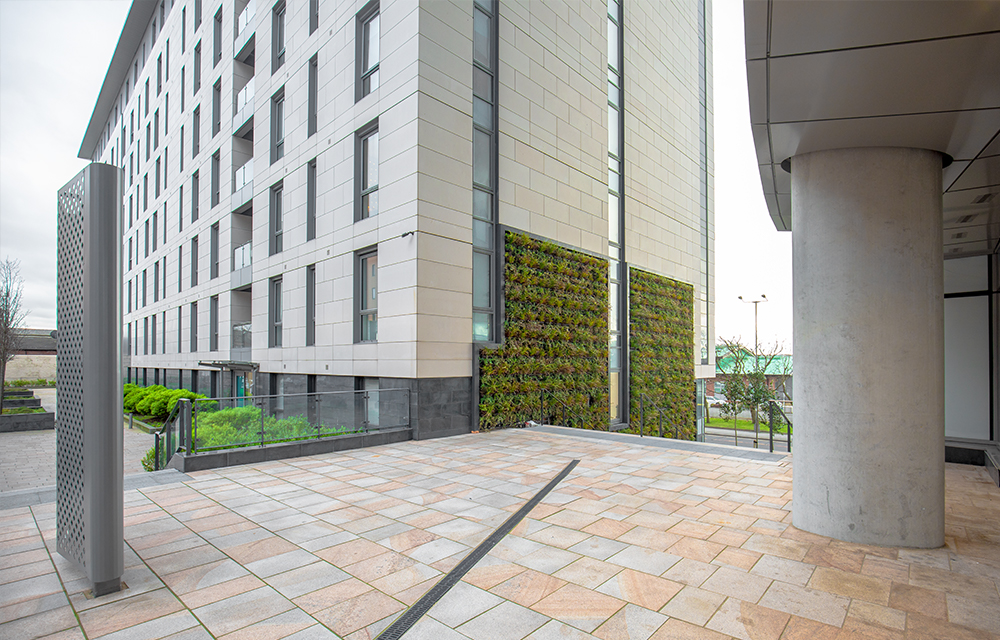 Minimal maintenance, maximum visual impact
With 3,600 individual plants including varieties of grasses, ivy and hardy shrubs in Euonymus and pachysandra, the plant choice allows a dense blanket with foliage and form interest and contrast.  The wall, installed by one of Mobilane's clients and landscape experts Oasis Plants, is formed by the Mobilane LivePanel modular system.  Exchangeable cassettes with slot apertures for rows of plants include a gutter profile with an integral water reservoir, allowing the plants to enjoy a moist living environment through capillary action.
The system is not only recyclable in all its elements, but the planting theme can also be recycled too – interchanging plants, for foliage and forms to suit seasonality and reflect trends.
Oasis Plants will return regularly to inspect and ensure the plants remain in pristine condition as they continue to work hard creating a head-turning first impression for residents, visitors and passers-by that will continue to wow them for many years to come.