LivePictures in the Warung Mini Kijkduin restaurant
In the newest takeaway restaurant Warung Mini Kijkduin, LivePictures have been installed. The latest location of family-owned company Warung Mini is located in the seaside resort Kijkduin in the Deltaplein. It is an atmospheric fusion of different restaurants and a covered fresh market. The beach visitors are treated to a wide range of (takeaway) restaurants in the newly built food court. LivePicture from Mobilane has been chosen for the interior, provided by official Mobilane dealer Orangerie Bijleveld. A total of eight LivePictures have been placed in the restaurant and it contributes to the natural appearance of the restaurant.
Interior Warung Mini Kijkduin
The walls in the restaurant are covered with bamboo that ensures a warm and natural appearance of the restaurant. As a true plant lover, it was the owner's desire to implement plants in the interior for better acoustics and a pleasant ambiance. The interior of the new Warung Mini restaurant in Kijkduin is designed by architect John Rous. The LivePicture was chosen for the interior design. "I think the LivePicture is a beautiful product. The wall keeps changing because the plants in the LivePicture keep growing and changing colour. It is also easy to maintain since you only have to water it once a month" says John Rous. In the bamboo walls, there are recesses that provide space for eight LivePicture 1 plant pictures in the colour anthracite. Orangerie Bijleveld worked closely with interior builder Rijser to make sure the LivePictures exactly fit into the recesses. The tables in the restaurant have the same width as the LivePictures. This creates a beautiful dimension in the restaurant.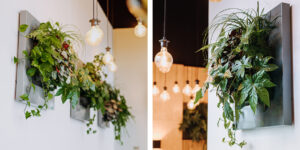 A few LivePictures are also placed on the opposite side of the wall to create a finished look in the restaurant. Frank Steenbakker and Petra de Groot from Orangerie Bijleveld are satisfied with the LivePicture: "The luxurious appearance and wide range of applications make the LivePicture a popular item. The easy watering is also an important plus of this product."
A homely feeling with LivePictures
For the plants in the LivePictures, Rafiek Wirokarso, owner of Warung Mini Kijkduin, wanted different plants in each plant picture so that each LivePicture looks unique. Plants such as Fatsia Japonica, Beaucarnea nolina, Tradescantia and a bright red leaf Begonia were used. Warung Mini Kijkduin has already received positive reactions about the LivePictures. Architect John Rous is also satisfied with the end result: "I think it is a success. Not only due to the design of the restaurant, but also due to the positive reactions from the visitors. It is something special, it is not something they see often." Rafiek is also very satisfied with the final output. "We have chosen for the LivePicture because of its size. It is more distributed throughout the restaurant and the restaurant gets a green touch. We strive for a homely feeling in the restaurant and this is achieved with the LivePictures. I think it turned out very beautiful, we are very happy with the end result."