LivePanel Indoor green walls at the Golf Resort PR Center in Seoul
LivePanel
Location: Seoul, South-Korea
Dealer: SeroGarden
In the customer service center at the Golf Resort PR Center in Seoul, Mobilane LivePanel Indoor green walls are used as green room dividers. The green walls were installed by official Mobilane dealer SeroGarden and serve as natural partitions in the room.
A large green room divider with LivePanel Indoor
A bigger green room divider than the LiveDivider PLUS from Mobilane was desired. The LivePanel Indoor green wall system was chosen here. First, a separate partition of iron material was made. Both sides of this partition are covered with LivePanel Indoor green walls. Frames made of natural stone were chosen to finish off the iron partition where the green walls are mounted on. The frame is made of real stone that matches the space concept of the interior in the customer service center.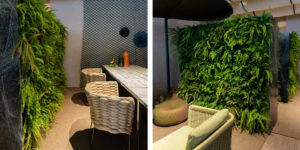 LivePanel Indoor in the Golf Resort PR Center
LivePanel Indoor is a modular green wall system for indoors. The modular system consists of gutter profiles and interchangeable plant cassettes. The plants in the cassettes can be chosen entirely according to their own preferences. The plant cassettes are placed in gutter profiles that also serve as a water reservoir. The plants absorb water from the reservoir by means of capillary action. LivePanel Indoor is provided with water through automatic irrigation or manually. For watering the green walls in the Golf Resort PR Center, it has been chosen to do this manually.
A space-saving and slim system
The LivePanel Indoor system was chosen because it doesn't need a separate water drainage system. It is a space-saving and slim system. In addition, the LivePanel Indoor weighs relatively less compared to other green wall systems. Another added benefit of the green wall system is the easy maintenance.
Interested in greening the interior with ready-to-use green systems? Have a look at the green solutions from Mobilane for inspiration.