LivePanel in the Radisson Blu Hotel, East Midlands Airport
The newly opened £22m luxury 218-bedroom Radisson Blu Hotel at East Midlands Airport,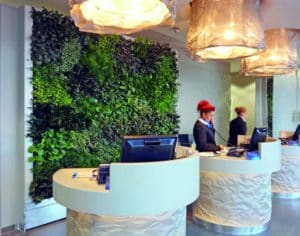 which has achieved the highest ever BREEAM rating for a commercial hotel in the UK is also the first building in the country to feature a Mobilane LivePanel living wall.
Living wall at the Radisson Blue hotel
The stunning living wall, which measures 10sqm and features a range of indoor plants, greets visitors at the check-in desk at main reception. The system features a built-in computerised irrigation system and specially developed nutritionally balanced minerals substrate to support vegetation. Installation of the living wall at the Radisson Blu hotel was completed
in a single day by Hedera Screens of Derbyshire. The only preparatory work needes was the fitting of growing light prior to installation. The plants were grown offsite by Mobilane and delivered ready for installation.
The wall was greeted with delight by management and visitors alike, as" Daniel Kean, General Manager explains: "The living wall looks great. Visitors love it and we've had nothing but positive comments."