Introducing living walls to the next generation
LivePanel
Location: London, United Kingdom
Dealer: Oasis Plants
N Family Club is a group of early years nurseries with a brand new nursery concept in four spaces across London.  Offering day care to children aged three months to five years, the facilities create a family feel and offer support to parents, grandparents and carers in an ever-more fragmented community in a city environment.
Nurture and Nature in unison
The London Fields nursery opened in June 2019.  As the doors opened and the first children took their first N Family steps, they were greeted by a beautiful living wall, courtesy of Oasis Plants and the Mobilane LivePanel. 
Installed on the roof level of the nursery, the 13 square metre LivePanel extends the roof garden's nautical natural theme and is planted with Pachysandra, Carex Morrowii, Carex Ice Dance, Hedera Helix White Wonder and Euonymus Fortunei.  This infusion of grasses, climbers, colour, foliage and form draws varied interest from its young patrons. The children are encouraged at play to take notice of the plants, to spot when they need a little care and to learn about plant science, growth and nature.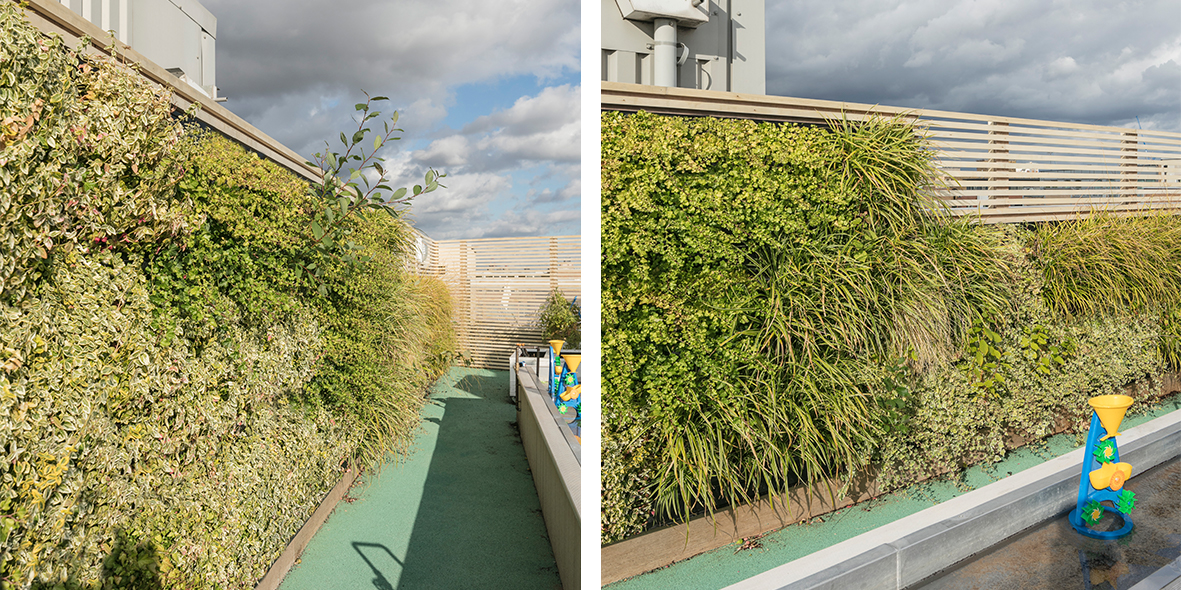 A healthy, clean air environment
Maximising green elements in an otherwise grey urban environment, the LivePanel plants are also working hard on improving the air quality.  Renowned for their pollution-busting qualities, the leaf cover not only forms a naturally beautiful wall of colour but is busy removing harmful particulates from the air in this intensely busy city environment.  The nursery maximises the children's outdoor time, weather permitting, with sessions taking place alongside the living wall up to three times a day. At the start of a child's educational journey, this area is the backbone of a healthy living environment at the Club where reading, socialising, exploring, playing and learning in the fresh air is a vital element of a child's development and preparation for school.
Flourish and grow
"We are thrilled with the LivePanel living wall, as are the children." explains Paige Francis, Operations Manager at N Family Club.  "The children particularly enjoy playtime alongside the living wall. They take time out to see how it is growing and show great interest in its development.  The plant choice of grasses, climbers and different colour leaves creates a beautiful backdrop to their daily activities. We've been pleasantly surprised as to how quickly it has established and we've been impressed with how much it has already started to flourish and grow – we've had plenty of positive comments from parents and visitors too!".
Find out more
To find out more about N Family Clubs in the London area and to see the LivePanel wall in action, please visit the N Family Club website.  Installed and planted by Oasis Plants.