Green wall as fresh eye-catcher in villa hallway
In the Netherlands, a couple chose to have a completely new villa decorated by interior designer Thomas de Gier. The Dutch t.v. programme 'Design Secrets' was invited to follow the process in their show. The ultimate eye-catcher in the hall is a spectacular green wall that extends two floors high.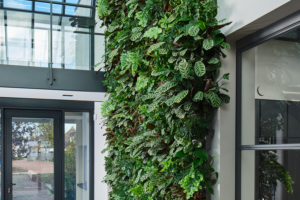 Interior design that suits the resident
The couple who live in the villa are very pleased with the green wall. "The green wall is in the hall of our residence. Because we work in greenhouse farming, it has been made into a kind of greenhouse. This was an idea from our interior designer Thomas de Gier. The LivePanel green wall is a very nice addition to the hall. It immediately catches the eye."
Thomas De Gier is an interior designer who first talks to his clients about their wishes and preferences. He then looks with them at how he can best translate these into reality using his own insight and knowledge. In this way, the ideal combination is found between colour, material, function and design. Thomas finds it important that the occupants of the house feel comfortable in their own home and therefore tries to add a personal 'touch' to the designs.

Automatic irrigation system
The LivePanel Indoor green wall is a system consisting of interchangeable plant cassettes. These have slots into which the plants are potted. Through capillary action, the plants absorb water from the reservoir. This prevents water courses and ensures that the plants are watered evenly. An automatic irrigation system provides the plants with water and nutrition. A drainage system ensures that excess water is drained away.
The homeowner says: "Through connections in horticulture, we had ended up at Mobilane. The explanation of the ingenious yet simple and comprehensible system and the guidance in selecting the plants were very positive for us. Because the hall has the appearance of a greenhouse and the roof is completely made of glass, the plants also have plenty of daylight. As a result, the wall always looks its best."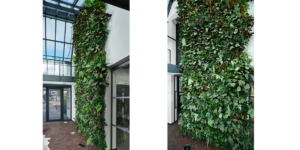 Eyecatcher of biophilic design
When asked what they themselves think of the wall, the residents have an immediate answer: "It is a real eye-catcher in the hall, especially in combination with the greenhouse and the authentic bricks on the floor. This adds to the effect of bringing nature inside. This form of biophilic design gives tranquillity. It creates a pleasant climate in the hall. In addition, a fine, fresh scent emanates from the wall. Which also makes a positive contribution to the entrance when we invite people or come home ourselves. In the wall, you also see something different all the time. All visitors love it and feast their eyes on it. A real eye-catcher."