Green Screen instant hedging installed at 35 sustainable social housing apartments
Social housing provider Ymere Wonen has replaced twenty outdated retirement properties with a new complex of thirty-five energy-efficient, gas-free rental apartments. "These 35 new-build apartments represent a major step towards building more social housing and increasing focus on sustainable construction", explains project developer Ruben van der Spek. Mobilane Green Screen instant hedging was recently added to the site by official Mobilane dealer Tuinplantencentrum Loef garden centre and installation partner Biesot landscape architecture.

A compact solution that immediately creates a polished look
"The garden design was drawn up by urban planning and landscape architects VLUGP. On behalf of Ymere Wonen, we created the outdoor space and internal courtyard garden. We're currently working on the planting and installation of the Mobilane Green Screen hedging. The one-metre-tall ready-made hedge is being used along the boundary to separate the private and public spaces. This solution was chosen because it doesn't take up much space, and because it immediately creates a dense privacy screen and a polished final look. The first step is to install the posts at 125 cm intervals. We made a tool to measure out the distance. Then we dug the holes and positioned the hedges. After a quick sweep, the hedge pretty much looks like the finished article we envisaged", says Robert Biesot. He is co-director of Biesot Tuinen en Parken, along with Bart Biesot.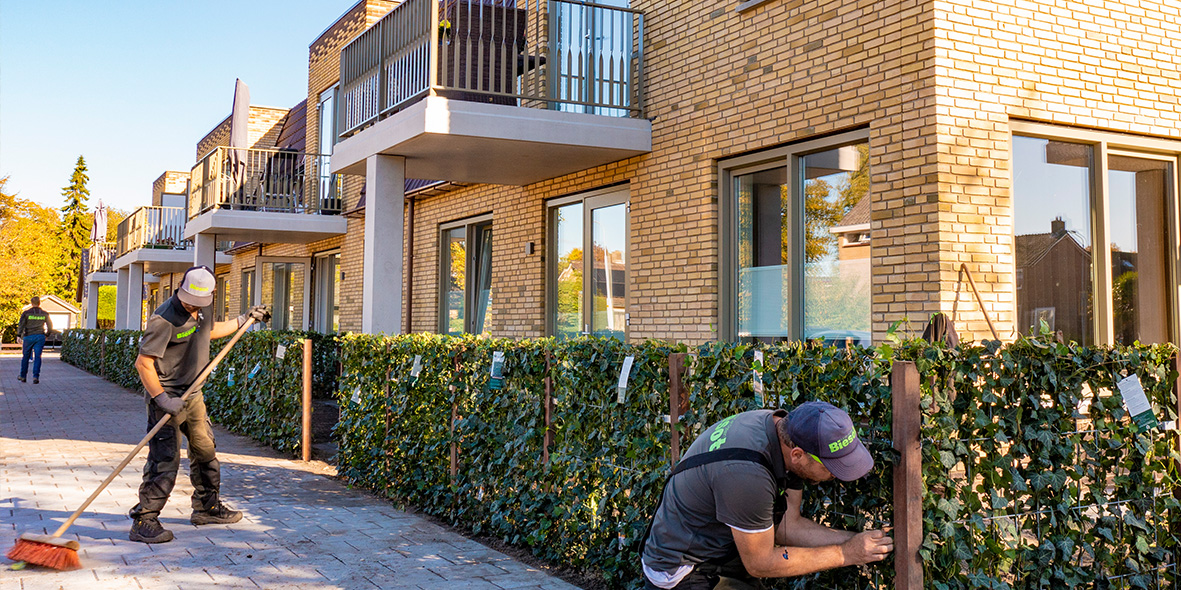 Products delivered from stock and consistently high quality
Ben Crezee, co-owner of garden centre Tuinplantencentrum Loef, says: "We're increasingly seeing councils and construction projects incorporating greenery into their building specifications – sometimes it's a green roof, or it might be a requirement to use a hedge as a border instead of a fence. And there are lots of residents opting to club together to purchase green roofs too. Mobilane products are ideal for these kinds of projects because everything is ready to install on delivery. In new-build projects in particular, you often need a lot of units, and with Mobilane I know that the products are in stock and are consistently high quality. I ordered 165 Mobilane Green Screen hedges and I know that I won't have to send a single one of them back because they're all great quality. This level of trust takes all the worry out of the process – for me and for the end customer".
Hedera helix 'Woerner'
Mobilane products like Green Screen instant hedging are ideal for use in new builds and renovation projects. As all of the products are fully mature on delivery. The envisaged end result is achieved as soon as the hedge is installed. A total of 165 Mobilane Green Screens have been installed at the apartment complex. A total of almost 200 metres of greenery. The variety used in this project is one-metre-tall Hedera helix 'Woerner' hedging.