Green My School | Sutton school joins the green screen initiative in fighting air pollution
In the playground of a Sutton school there is a living green wall of Mobilane Green Screens installed. The 54 meter long hedge was installed by Meristem Design in February 2019 and consists of hedges with 20 different varieties, including those planted at the base. Meristem used the quiet holidays of the half year to install 60 meters of pre-cultivated climbing hedges in "custom-made" planters with their own irrigation system.
Stimulating insects and nature
The combination of the traditional Mobilane Green Screens Klimop varieties with Euonymus fortunei, Jasmijn (Trachelospermum Jasminoides) and two Clematis varieties has resulted in a background full of colour, aromas and dense foliage, perfect to stimulate insects and animals.
Ecosystems and natural environment
Not only has it aroused a great deal of interest among pupils returning from their school holidays, but it has also helped to involve children in learning about ecosystems and their natural environment. They have also explored where food comes from and how plants can help improve air quality and reduce pollution – a fundamental part of the Green My School philosophy.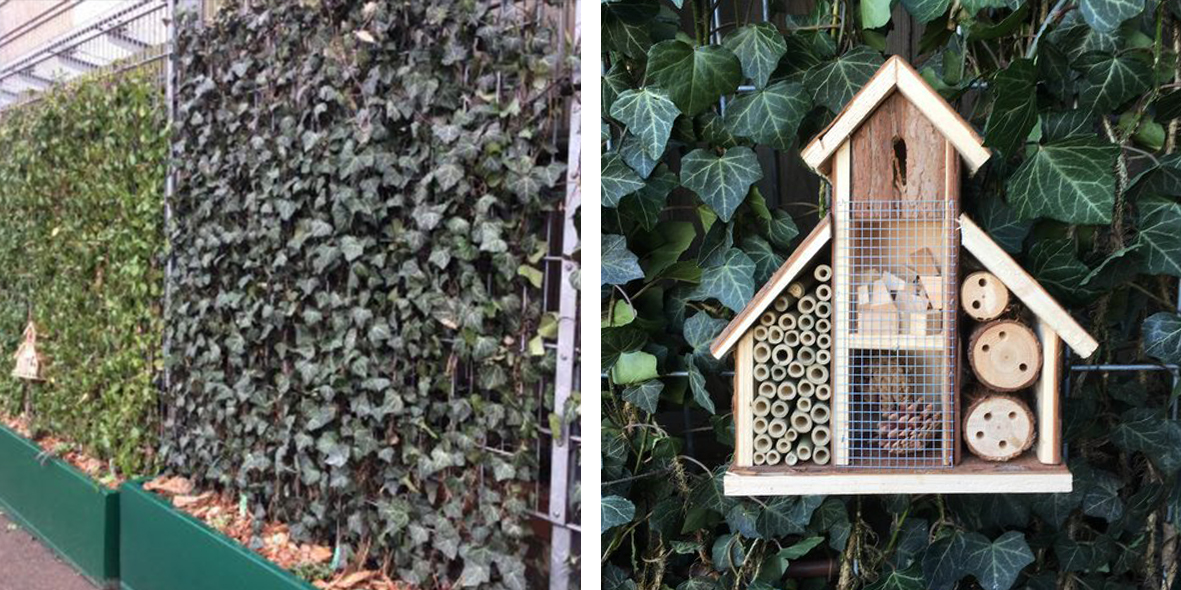 Green my School
Robin Hood Junior School headmistress Elisabeth Broers said: "I love the variety of plants, the herbs, and the insect boxes are already attracting the attention of children – the insects will undoubtedly follow soon! In collaboration with the Sutton Council's control team, school management has chosen the Mobilane Ready Hedges as a positive step in reducing children's exposure to particulate matter in the playground.
As with other Green My School initiatives, the Mobilane Green Screens are planted along school playgrounds and playgrounds with busy roads on the other side of the hedges and a high level of urban pollution. The hedges will improve the air quality on a daily basis, support the educational programmes and form a natural barrier in an otherwise grey built environment.
The London Air Quality Fund
Meristem has also installed Mobilane Green Screens at two other London city schools, as part of an initiative funded by the Mayor of the London Air Quality Fund.