EVE Architects opts for biophilic design with green wall in office
The team at EVE Architects has brought nature indoors, using biophilic design to create an office that reflects the company and the way it works. Integrating biophilic design into the workplace has been proven to boost the wellbeing, health and productivity of employees and visitors. Spending time in spaces based on biophilic design principles helps us feel more physically and mentally balanced.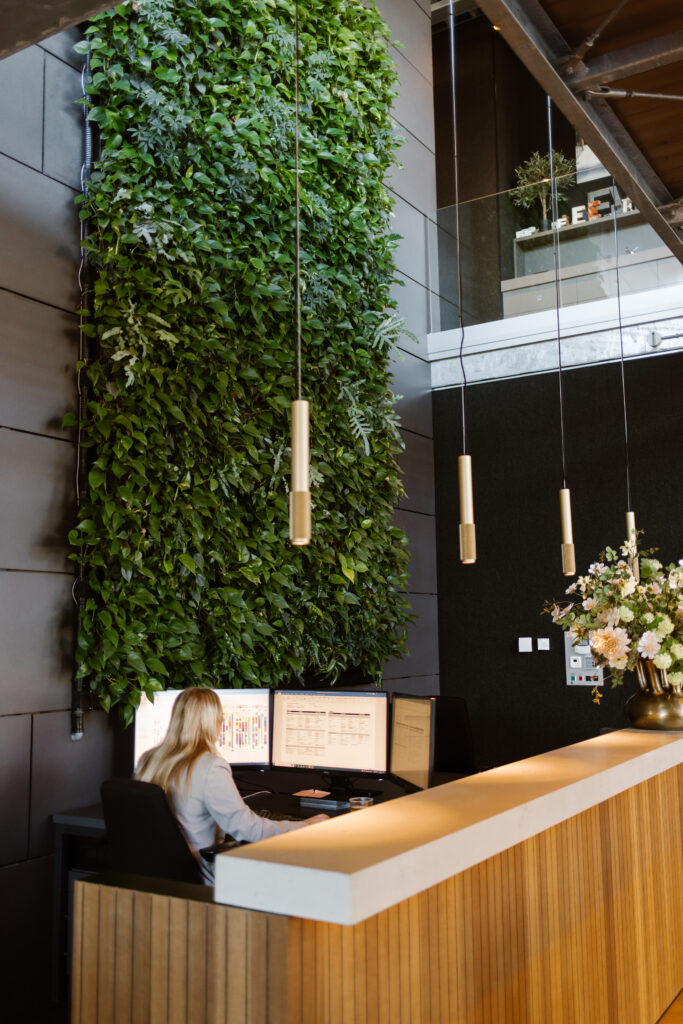 An office that fits the company
The staff at EVE Architects want their office to reflect what they're about and how they work. To achieve this, the design deliberately exposes all of the components of the building: from the basic construction elements to the air treatment systems and the electrics. Glass is used for the facades and all corridor-facing office walls, creating a building with an open and transparent feel. Additionally, the space also needs to be a place where the members of the team feel at home. Because we all come up with our best ideas in places where we feel comfortable. To create a sense of safety and bring the calming serenity of nature into the space, the company chose to incorporate a living green wall with vertical planting into the office.
Christian Tijssen, a designer at EVE Architects, explains: "The LivePanel green wall is located right next to our entrance. We want to make our office a greener and more sustainable place to be. Bringing more plants into the space improves the indoor climate for our team and clients, by boosting oxygen levels and filtering the air. We also wanted to use greenery to create a living feature in our office. There's always something going on in our green wall. Our clients notice it immediately and it's often the first thing they mention when they visit us for the first time."
Biophilic design principles
Biophilic design describes the integration of flora, fauna and water into the built environment, or the use of materials and patterns that occur in nature, recognising how important the human connection with nature is for our wellbeing. This form of designing is a valuable addition that enhances the quality of architect-designed spaces. For example in workplaces, it has an enormous impact on the wellbeing, health and productivity of the people who use the building. On average, we spend 90% of our time indoors – so it's essential that employees, visitors and other users of a building maintain some kind of connection with nature to safeguard their health and wellbeing. Incorporating biophilic principles can also bring financial benefits for companies, making it an essential part of any design strategy.
Outsourcing maintenance
Mobilane wants its customers to benefit from their new wall for as long as possible, so the company provides a maintenance package for installed green wall systems. This additional service can include everything from pruning to monitoring the irrigation system and topping up the storage tank. For each of its LivePanel Indoor green wall systems – the option selected by EVE Architects – Mobilane offers a suitable irrigation system complete with integrated feed supply. Each green wall is unique, and the system must be carefully adjusted to meet the needs of the plants. The wall parameters are constantly monitored to ensure that the greenery looks healthy and fresh all year round. Maintenance frequency varies depending on the species of plants installed, the season and the current growth rate of the plants. Good maintenance is essential to keep a green wall healthy.
Tijssen: "We signed up for a maintenance contract with Mobilane, which works really well for us because we don't need to worry about the plants at all. The green wall looks great in our office. It's clear that it's a living wall with a vast array of plant life. It's a valuable and sustainable addition to our office space."