Air-purifying green walls in the office of Blom Ecology
At the newly renovated office of Blom Ecology in Waardenburg, The Netherlands, three green walls were installed by official Mobilane dealer Mekelenkamp. Blom Ecology is a nationally operating consultancy for ecological issues in nature, rural and urban areas. Blom Ecology is passionate about restoring and strengthening the (natural) balance in the environment and between nature and society. Therefore, it was essential to have some green walls in the office.
"What do you (and visitors) think of the appearance that the green wall gives to your company?"  
Beautiful, we get nothing but very positive reactions about the walls and we are very happy with them ourselves as a company! The green walls also mean that the air is cleaner and less static. We have chosen for a green wall because it fits well within our ecological company and our motto to connect nature and society'. – Laura de Jong, administrative employee at Blom Ecology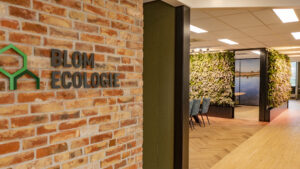 Air-purifying plant mix 'Breath of fresh air
A total of 1152 plants were used in the green walls with a total surface area of 27 square metres. The plant walls are provided with a 'Breath of fresh air' plant mix. This plant mix is composed of various air-purifying plants and results in a beautiful, mature green wall. It contains the following plants: Nephrolepis 'Duffy', Calathea 'Amabilis', Spathiphyllum 'Cupido', Phlebodium 'Blue Star' and Nephrolepis 'Green Lady'.
Efficient in water consumption and maintenance
The green walls are equipped with an irrigation system whereby a water supply is stored in a tank placed at the bottom of the green wall. The system is not connected to a water supply and drainage system and is therefore very efficient in terms of water consumption. Because of the tank, the green wall also only needs to be refilled once every 1-2 months.
Jan Mekelenkamp, owner Mekelenkamp: 'The installation of the green walls is easy and straightforward. It's still fascinating. Green does so much to a building. Plant walls immediately give a good boost to a space. The LivePanel Indoor green wall system with tank is quick to install and you immediately have a stunning effect. The cooperation with Mobilane is also good, clear and transparent'.