A living wall as an eye-catcher in the Timberjacks restaurant
The restaurant of the Timberjacks chain has opened its doors in August 2021 in Siegen and is covered with the LivePanel Indoor living wall system from Mobilane. The restaurant has the appearance of a log cabin and has a fireplace on the terrace, bull riding, American barbecue and Californian cuisine. The restaurant not only ensures the guests an appetising cuisine, but they also take responsibility for environmental protection and climate change. For example, with the "Forest for the trees" campaign, Timberjacks is reforesting forests. For every sold "Forest for the trees"-item, 3000 trees were planted. In the area between Scheden and Hannoversch Münden, silver firs have been planted and offer protection to fallow deers, red deers and roe deers. In this way, young plants contribute to a greener future.
A living wall with real plants as a green eye-catcher
It is not surprising that Timberjacks has opted for an ambiance with lots of wood and real greenery. The wall next to the staircase to the upper floor, which is planted with real plants, is a wonderful green eye-catcher. The living wall is not only attractive but also contributes to a healthy indoor climate through its oxygen production and also has a positive effect on the acoustics in the restaurant.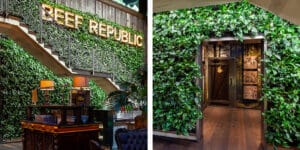 LivePanel Indoor System
Achim Eilingsfeld from the Gefässerie in Hammelburg was responsible for planning and execution and is satisfied with the result. "What makes this project special is that the staircase is right in front of the green wall. There is also an openture in the wall for access to the restroom. The modular system of LivePanel Indoor made it possible to install the green wall without any problems." A total of 38 square meters is planted with the LivePanel system from Mobilane. The modular and fully recyclable living wall system consists of cassettes planted with plants. The installation of the LivePanel system is quick and easy. Each row of cassettes is placed in a gutter profile that also serves as a water reservoir. The plants receive water from the profile through capillary action.
Living wall installation
In the first step, the technical components were installed. The pre-grown cassettes were installed before the project was handed over. Scindapsus, Philodendron, Dracaena, Asplenum and Schefflera were chosen for the plants in the plant wall. A dense and opulent green wall decorates the room and delights the guests of the Timberjacks restaurant. To ensure that it stays that way in the long term, the LivePanel system is carefully maintained several times a year, even after completion.