A living wall and jungle in the office of Planon
Last year, Planon officially opened its Innovation Campus in Nijmegen. This smart and sustainable office building is an extension of Planon's head office in Nijmegen. The newly-built greenhouse built of glass and steel called "Planon Jungle" connects the current headquarters and the Innovation Campus. It is an example of the expertise and vision of the company and a showcase of an office of the 21st century. A living wall at Planon has been placed and the energy-neutral greenhouse is an inviting meeting environment with lounge sofas, tropical plants and palmtrees of 10 metres high. In the reception hall, LivePicture from Mobilane has also been placed.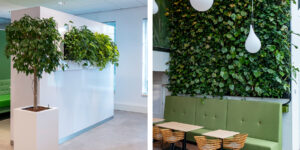 Space-saving and economical in water consumption
In the Innovation Campus, a green wall has been installed with the LivePanel Indoor system. By placing greenery vertically, space is saved, especially in offices where every square metre is important. The 25 square metres plant wall is supplied with an automatic irrigation system and sensors that only provide water when needed. This prevents unnecessary waste and the green wall is economical in water consumption. "The LivePanel system is a very easy-to-install system with low maintenance. Watering the plants is actually regulated by itself. You only have to ensure that the gutter profiles are filled with water. This can be done manually or automatically, depending on the size of the wall", said Paul Gerretschen, purchaser and planner at Ten Brinke Interieurbeplanting. For the living wall at Planon, there has been chosen for automatic watering by means of an irrigation unit. Tropical plants like the popular plant Monstera has been planted in the plant wall.
Aesthetically-pleasing and green meeting area
All the tropical plants in the greenhouse and green wall have been placed by the official Mobilane dealer Ten Brinke Interieurbeplanting. By applying biophilic design, Planon has transformed this building into an environment that encourages team collaboration. The building serves as a source of inspiration for research and development on building and workplace technology. The 'Planon Jungle' functions as an aesthetically-pleasing and inviting green meeting area. The Innovation Campus also offers a bar, a gym and a vegetable garden to stimulate social interaction, health and well-being.
Office environments of the 21st century
Planon is the market leader in digitalizing building management activities. Through its years of experience, Planon is fully up-to-date on recent and future challenges for office environments and therefore recognizes the importance of a sustainable workplace with advanced technological capabilities. The insights, knowledge and vision of the company are put into practice with realising a pleasant, green and healthy office that functions as a meeting area for employees and clients.