A healthy indoor climate in company canteen with living green wall system
International food company installs attractive vertical greenery in break room.
For the expansion of an international food concern in Frankfurt am Main, the canteen on the 5th floor was fitted with a living green wall. Mobilane's LivePanel living green wall system with Tank was chosen because of its handiness and appearance.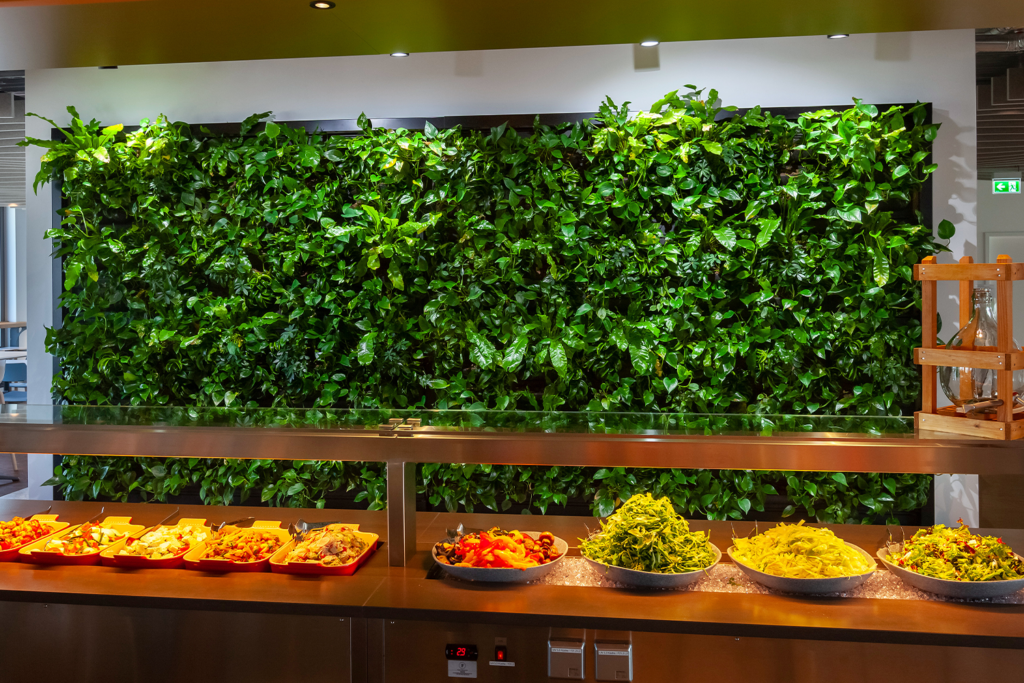 Lean and space-saving living green wall system
LivePanel is a patented, modular plant wall system with interchangeable plant cassettes filled with substrate. It is an extremely space-saving system. This was also one of the reasons for choosing LivePanel from Hydroflora GmbH Objekt-Begrünung in Neu-Isenburg, which was responsible for planning and implementing the project: the plant wall had to improve the acoustics and climate in the room, but by no means take up a lot of space. In total, a vertical area of 9.41 m² was greened in this project. The cassettes of the system are fitted with trays in which the plants are placed. Each row of cassettes is placed in a profile rail, which also serves as a water reservoir. The plants supply themselves with water by capillary action.
A combination of an automated and manual system
The customer decided to water the plant wall via a tank, placed under the plant wall system: LivePanel TANK. This means that the system can be watered autonomously without the need for a connection to the mains water and wastewater network. A tank is placed under the LivePanel in which the water is stored. The tank is filled manually about once a month. The system only needs a power connection, for a timer-controlled pump that supplies the profile rails with water from the tank. At the client's request, special cabinets were fitted to the left and right of the plant wall to hide the timer. This is to ensure that no one can adjust the timer.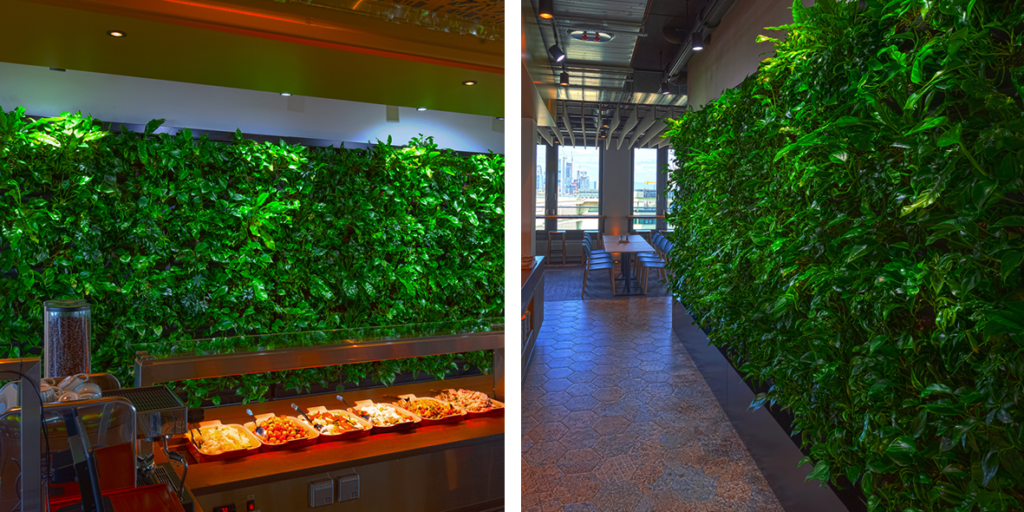 Pre-grown plant cassettes
Another reason for choosing LivePanel was the fact that Mobilane cassettes are supplied pre-grown. For the greenery, the attractive plant mix "Lemon Surprise" consisting of Epipremnum Aureum, Asplenium nidus, Dracaena Lemon Surprise, Schefflera arboricola and Philodendron Scandens was chosen. To ensure that the plant wall remains permanently lush and beautiful, Mobilane's LivePanel system is carefully cared for and maintained several times a year even after completion.
Construction panel:
– Project: international group, Frankfurt am Main
– Planning and execution: Hydroflora GmbH Objekt-Begrünung, Neu-Isenburg
– Product used: LivePanel TANK from Mobilane, plant cassettes 40 x 40 cm
– Surface area: 9.41 m²
– Weight: 40 kg / m2
– Plants: Plant mix "Lemon Surprise
– Creation date: Summer 2022