A green jungle in the MaLo restaurant with LivePanel Indoor
LivePanel
Location: Stuttgart, Germany
Dealer: Gefässerie
For greening the in October newly opened MaLo restaurant in Stuttgart, the LivePanel Indoor green wall system from Mobilane was chosen. The MaLo restaurant offers the guests a combination of an exclusive cuisine with an extraordinary ambience. When entering the restaurant, MaLo impresses with its greenery with exquisite lighting and elegant interior design. The renowned chef Markus Hespeler also surprises his guests with a cosmopolitan cuisine. He mainly relies on specialties and ingredients from the region. "The best quality and sustainability are our top priorities," says Mathias Grohe, who runs the restaurant with his son Lorenz.
The positive effect of plants
Sustainability can not be better implemented in the design of the interior than with living greenery. The green wall with real plants in combination with real-looking artificial plants from the ceiling creates a unique jungle feeling. The greenery is not only a visual highlight, it also has important advantages. "Of course, we undoubtedly also appreciate the positive effect of the green wall on the acoustics and the healthy indoor climate," says Marc Mir from Architects Lee and Mir.
 Easy installation and maintenance
Responsible for the planning and execution, Achim Eilingsfeld from the Gefässerie in Hammelburg is satisfied with the result. "This project is something very special to us and was a real challenge. For technical reasons, we decided to use very high-quality artificial plants for the 15 m2 ceiling cladding. The real plants on the wall give the guests a valuable overall impression."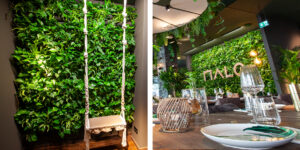 A green wall surface of 21 m2 in the MaLo Restaurant
A total of 21 m2 vertical greenery has been placed with the patented LivePanel Indoor system from Mobilane. The modular, fully recyclable vertical greening system consists of interchangeable plant cassettes filled with plants. The installation of the LivePanel system is easily realised. Each row of cassettes is placed in a gutter profile that also serves as a water reservoir. The plants absorb water from the water reservoir by means of capillary action.
Not all locations where one would want to have a vertical green wall also has sufficient daylight. However, in the MaLo restaurant, this was perfectly solved through additional lighting. The swing in front of the plant wall with the MaLo logo serves as an attractive setting for the guests to take selfies.
Installation
For the installation of the green wall, the gutter profiles were installed first. The pre-grown cassettes were placed afterwards. Plants such as Scindapsus, Philodendron, Dracaena, Asplenum and Schefflera were chosen for the greening. The dense green wall makes a deep impression on the guests of the MaLo restaurant. The LivePanel Indoor system is carefully maintained several times a year to ensure it stays dense and green.