A 9-metre high plant wall at ProLease creates a wow effect
In the stairwell at the office of ProLease in 's-Hertogenbosch, a 30 m2 plant wall of more than 9 metres high has been installed by official Mobilane Dealer Ten Brinke Interieurbeplanting. Next to installing the green plant wall, Ten Brinke Interieurbeplanting has also placed plants throughout the whole office. The plants ensure a pleasant environment to work in and to receive visitors. ProLease is a brand- and bank-independent leasing company of passenger and lightweight company cars. ProLease moved in 2017 to the new office next to the A2 and has chosen to locate all business units in one location.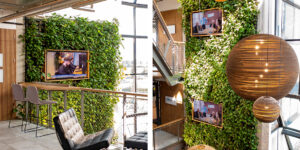 "The appearance of the green wall perfectly matches the sustainable character of the office which we had in mind and contributes to greening our company and what we stand for. We receive a lot of positive reactions from our clients and suppliers who visit us. It creates a real wow effect when visitors enter the building and look up from the staircase. The most important benefit is, of course, the contribution to improving the indoor climate through clean air with good humidity", says Jürgen Otten, director/owner of ProLease.
Benefits of the plant wall at ProLease
Next to the fact that a plant wall with real plants is a true eye-catcher because of its aesthetic design, it also has other benefits. Various air-purifying plants in the plant wall absorb CO2 from the atmosphere and contribute to a healthier indoor climate. Moreover, this improved indoor climate ensures less sickness absenteeism and a pleasant working environment. In addition, the plant wall has a sound-dampening effect.
"The reasons why we have chosen for the green wall are mainly the contribution to the climate inside the building, the improvement of acoustics in the central hall and of course because it looks very beautiful in combination with the industrial character and the interior design of the building", says Michaël Melchior, Manager Marketing & Business Development at ProLease.
LivePanel Indoor plant wall
For the green plant wall at ProLease, the LivePanel Indoor system. LivePanel Indoor can be used for different ways of vertical greening. The client has complete freedom when designing the green wall, as well as the choice of plants. LivePanel Indoor is easy to install on various types of walls. The green wall gives an extra dimension to the room, is soothing yet striking to the eye and a true eye-catcher in any interior.