Ready-to-use MobiRoof ECO sedum cassettes ideal for green roof projects
Green roofs are visually attractive and make an important contribution to ecology and economy in architecture, as they not only improve the climate in general, but also the ecosystem in and around a building. For landscapers and gardeners, there are many advantages. In Germany, three different houses have been qpuipped with green roofs using the MobiRoof ECO sedum cassettes.
Joshua Schotten of Schotten Der Gärtner in Düren says: "We prefer using the sedum cassettes for small areas in the city. This way we can work cleanly, there is less waste unlike other types of green roof systems. Moreover, the cassettes are very easy to work with. They are universal, easy in size and are conveniently put together, creating a green roof in no time." Mobilane's ready-to-use green roof system MobiRoof ECO consists of cassettes filled with substrate and is available in two attractive planting variants. The planting of MobiRoof ECO – Sedum consists of six to eight different sedum species.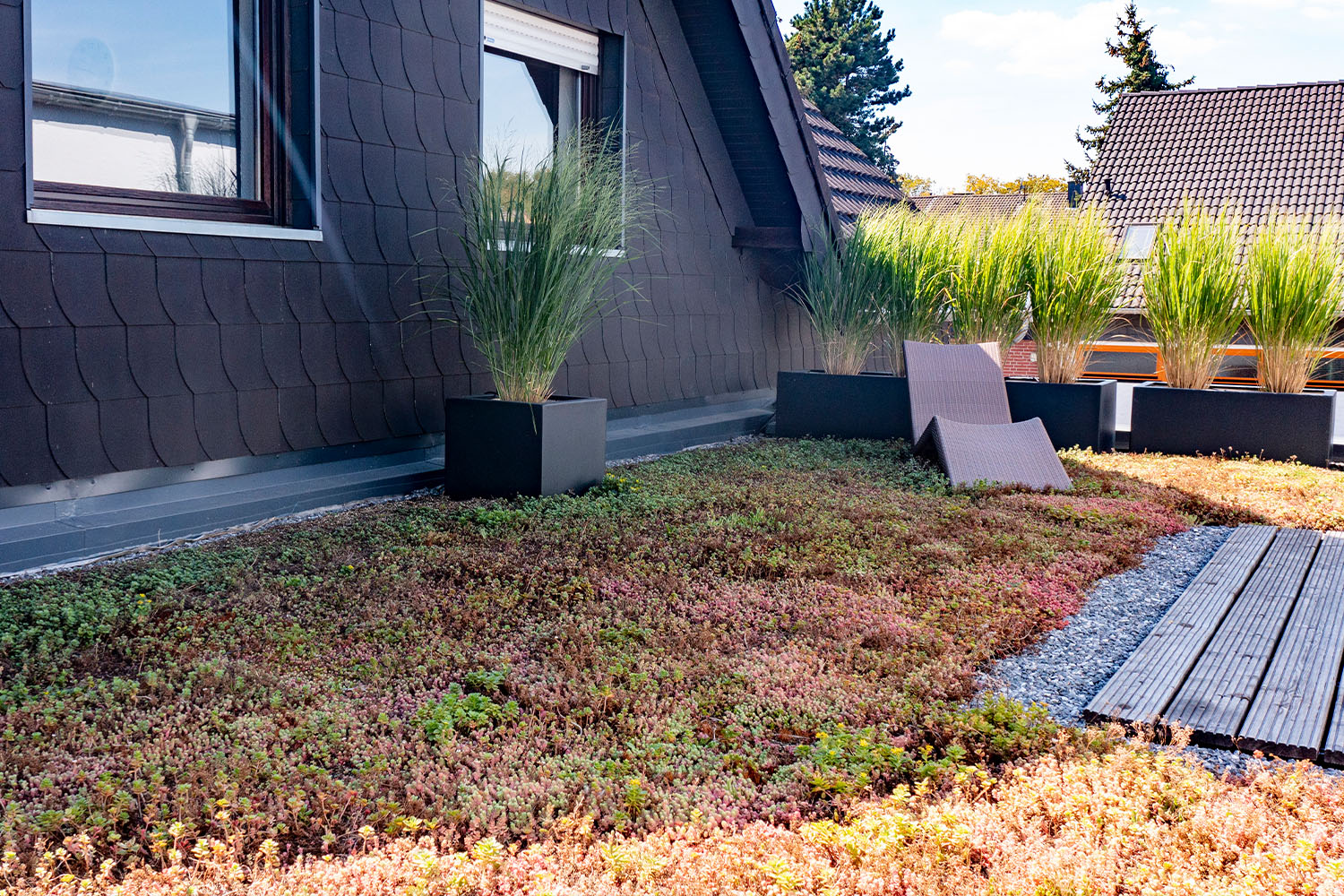 Attractive eye-catcher and contribution to biodiversity
 "Our house is in the middle of nature. The green roof fits in perfectly with the surroundings," says one of the satisfied homeowners. The plants in the cassettes improve air quality by reducing CO2 and have been proven to absorb particulate matter. A green roof is an attractive eye-catcher that also contributes to biodiversity. On the other hand, it extends the life of the roof because UV rays no longer reach the roof covering. It also has an insulating and sound-absorbing effect. More and more property owners are therefore opting for a green roof on their garage or the roof of their house or work landscape.
Sustainable sedum cassettes
The usable green roof system MobiRoof ECO is a recycled product and is produced sustainably and locally. The cassettes are made of a recycled material that is fully recyclable. "It was important for our family to find a sustainable solution for greening our roof. Our landscaper recommended MobiRoof ECO. It turns out it's a perfect solution for us!" said one of the homeowners.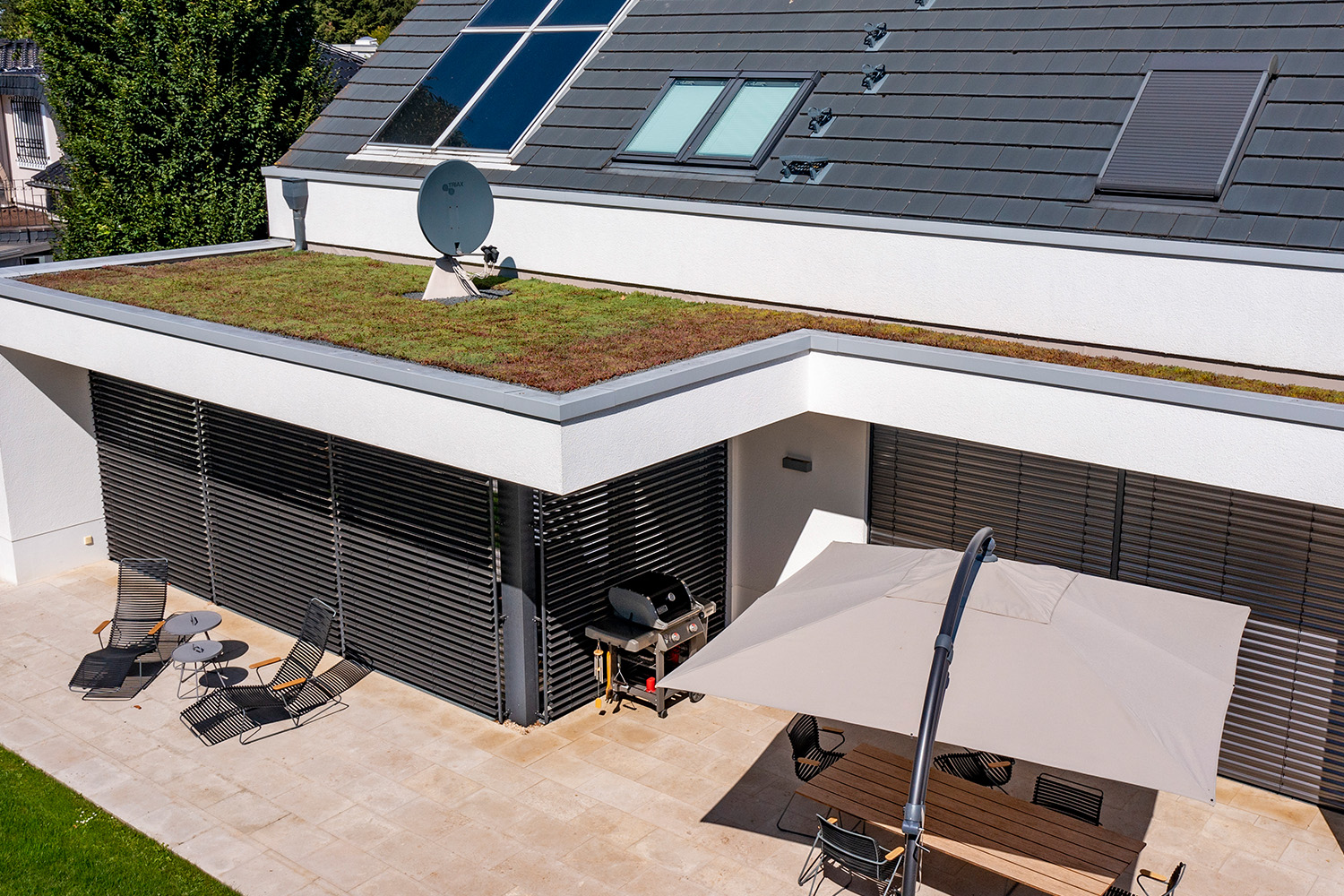 Simple and precise processing

Schotten has been working with Mobilane's prefabricated and durable MobiRoof ECO sedum cassettes for years. The unique lightweight cassette system is pre-grown with several plants from Mobilane's own nursery, in a special substrate that also serves as drainage and water storage. He says of the system: "A big advantage of MobiRoof ECO is that the cassettes snap together conveniently and quickly and can also be repositioned or halved. This allows the sedum roof to be fully customised."

Universally applicable

MobiRoof ECO is suitable for flat roofs and roofs with a pitch of up to 10 degrees. Moreover, the MobiRoof ECO sedum roof is very low maintenance. "The beautiful green roof gives us an extra nice place to sit on the roof terrace. We put a lounger on it. It looks very nice and you have very little work to do," indicates a homeowner.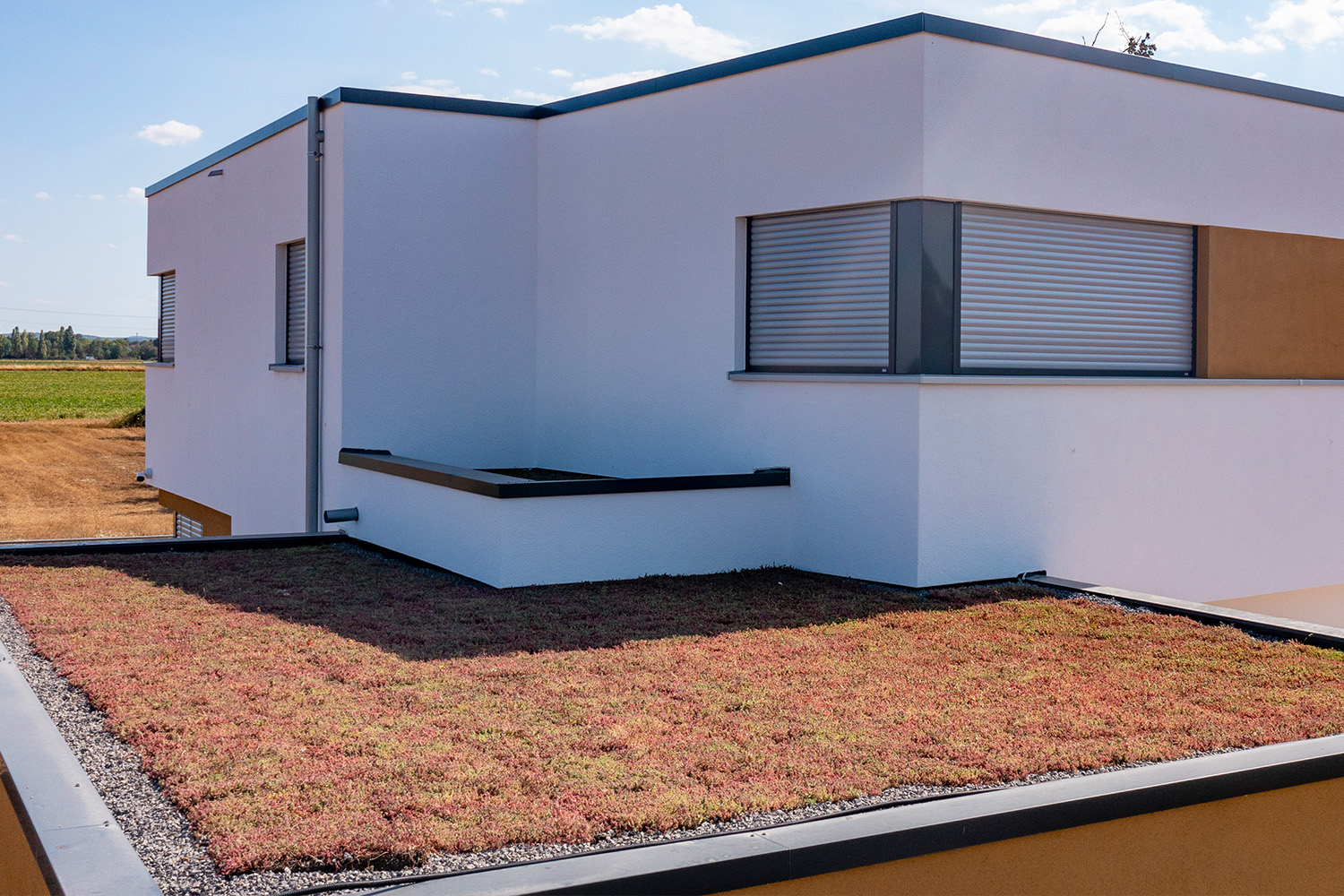 Project: three green roofs
Client: Private households
Implementation: Schotten, gardener in Düren
Product used: MobiRoof ECO Sedum & WildFlower, pre-planted green roof cassette, 54 x 54 x 9 cm. 3.43 cassettes are required for 1 m² of green roof.
Weight: max. 58 kg/m²
Plants: Mix of 6-8 different sedum species
Implementation date: Summer 2022