Mobilane at the Rotterdam Rooftop Days
27 June 2022
From 26 May to 26 June 2022, the Rotterdam Roofing Days were organized. For a whole month, residents and visitors could experience how innovative use of the roof can contribute to a better future for city dwellers. Approximately 208,000 visitors took advantage of this opportunity and visited the event. In total, Rotterdam has about 18 km2 of roof surface. Most of this is unused. Opportunities are waiting to be seized. Companies showed during this month which innovations in the field of green roofs, energy transition, and water retention are possible. Creating safe and lively public spaces in increasingly crowded urban areas and combating climate change are the main goals.
Rooftop Walk
Besides the festival that bears the same name, Rotterdam Roof Days organizes the Rotterdam Rooftop Walk, a route at roof level including a walkway between WTC Rotterdam and the Bijenkorf. At the Rooftop Walk, several innovative examples of (future) roof use are shown. One of these examples is the De Pluvert project, a collaboration between Blue innovations, Roffa architects, Citylab010 and Mobilane. Pluvert stands for 'Plus vert', more green in the city.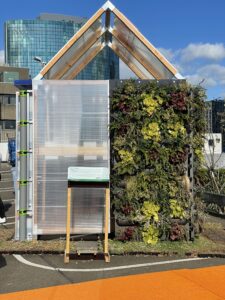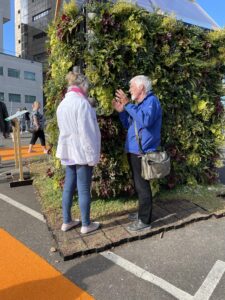 A fully passive green façade system
Climate change is causing more and more extreme weather conditions. This can manifest itself in large showers of rainfall in very short periods of time. By buffering rainwater, which is especially necessary in urbanised areas, a balance can be created in the amount of precipitation that falls during a year. Project De Pluvert is a smart drainage and storage system for rainwater runoff (Rainmate®) that is used to water a green façade. The special feature of the system is that it works entirely passively. The even vertical distribution of water works without pumps, as do the growth facilities for plants. The completely passive green façade system ensures smart storage of rainwater in the façade zone and contributes to reducing flooding. The greening of the façade contributes naturally to reducing heat stress, among other things.