A peek in Jellina Detmar's garden
9 June 2020
In 2017, the Frisian Jellina Detmar and her husband started renovating their farmhouse in Kollum, the Netherlands. The passion for interior and styling is clearly visible on her blog and Instagram on which she shares every change in the renovation. Now that it already looks great inside, it was also time to renovate the garden. For this, the Mobilane LivePanel PACK 3 x 2 was used above a small pond. 
We get a lot of inspiration from our travels. Jan and I have seen a lot of places in the world, last year we even went to Thailand with our children, which was quite an experience. The nature is so beautiful in Indonesia, Costa Rica, Bali, I can go on for a while like this! We love trees, plants, and animals. At our own home, we have reptiles, a snake and my son Déjan has a bearded dragon.
What do you think is important when designing the garden?
Atmosphere, coziness, and a lot of greenery! We do choose certain colours and style that match with each other. I like light colours but I also like dark colours. These dark colours should be earthy tones, such as brown, green, black, white, ochreous, dark red, etc. Not too bright or too visible. For the kids, we have built a small pond with a small waterfall which gives wonderfully soothing sound effects. Our plant wall from Mobilane hangs above the pond, a real Eye-Catcher, and the further the summer goes, the more beautiful it becomes, green with beautiful flowers! We also have mood lighting and a small fire place so that we can sit here in the evening cozy and comfortably!
Why did you choose for the LivePanel PACK?
It is something new, something original, something I did not know of yet, something that I want to share with my followers on my Instagram account @jellinadetmar. It gives atmosphere, it gives green, and it is beautiful to take pictures of. The first thought that I got was that this is an item that would look great in our garden!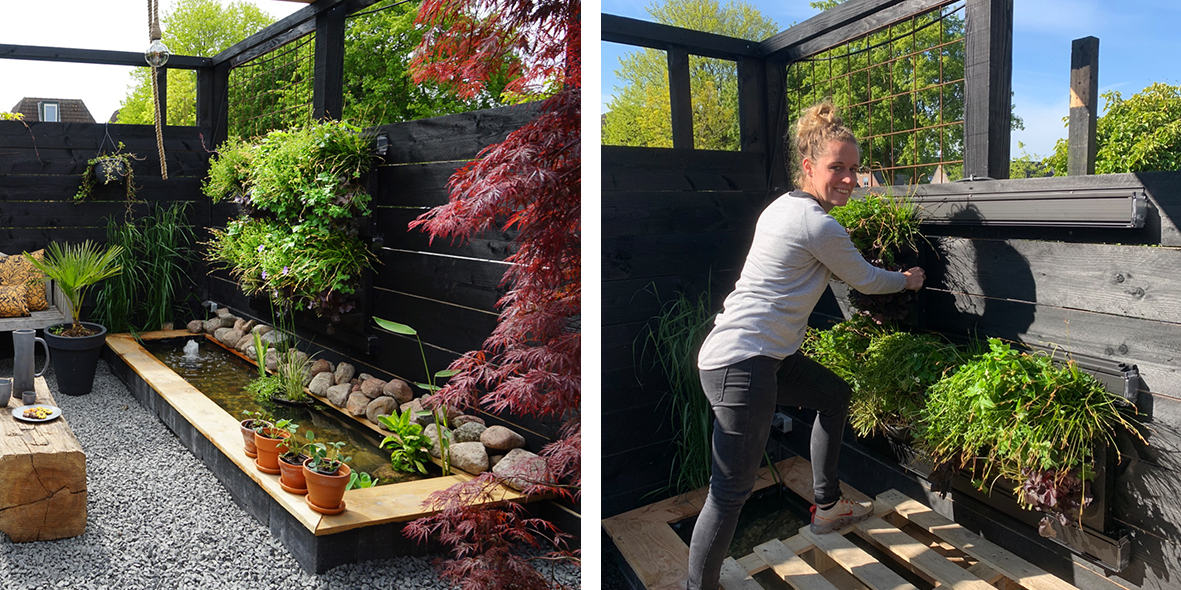 What is your favorite spot in your garden and why?
Sitting in my black hanging chair, looking over the pond and the plant wall. The waterfall, nice music in the background, mood lighting, and a glass of wine, bring on the summer! We have a lot of privacy here, nobody can see us in our garden and we have an unobstructed view of the rest of our garden, which is very nice!
Do you have tips for designing the garden?
Choose for comfort and match this with the ambiance. Comfortable seating is also important so you can relax in your seat! Our hanging chair is very comfortable, but if I have more people in the garden, we also have beautiful garden furniture where we can sit down with a cup of coffee or drinks! I like to create the atmosphere with plants, accessories, nice pillows, and lighting!
Do you want to get inspired by Jellina?
Have a look at her blog and Instagram to not miss out on anything from her beautiful farmhouse.