A living wall at home
24 February 2022
A living wall at home? This is the dream of every plantlover. Be innovative and opt, instead of wallpaper or paint, for vertical greenery in the interior. With a living wall, plants are added to areas where there is no space for plant pots in an easy way. Transform your home into an urban jungle with plants. A living wall not only has an aesthetic value, but it also has many benefits. A few benefits are listed below:
Improves the indoor climate
Improves acoustics in the home
Reduces stress
How do you create a living wall?
A plant wall in your home, how do you create that? You can create a living wall by attaching shelves to the wall and placing plants in small pots. But there is also the possibility to green a whole wall with plants. For covering the wall you can best opt for green wall systems. These are systems that can be mounted on the wall in which real plants are planted. There are different types of green wall systems. An example of this is the LivePanel PACK from Mobilane. This is an all-in-one package available in four standard sizes. Depending on the preferred size, a green wall can be installed on the wall. The LivePanel PACK system consists of gutter profiles and exchangeable plant cassettes that can be planted with plants according to your own preferences. The green wall is provided with water through manual watering. No electricity, pump or water drainage is required.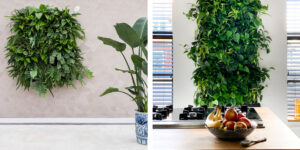 Benefits of a plant wall at home
As mentioned before, a plant wall has many benefits. Who doesn't want to beautiful green wall and experience the benefits of it? Plants improve the indoor climate since plants have an air-purifying effect. It purifies air in a natural way since the leaves capture pollutants. Plants contribute to better acoustics in your home since leaves dampen noise to some extent. In addition, having a view of greenery reduces stress. This is of course ideal in our busy lives.
Interested in a living wall at home? Have a look at our where-to-buy page to find a stockist near you.