A green balcony covered with plants at the residential care home Pennemes in Zaandam
LivePanel
Location: Zaandam, the Netherlands
Pennemes functions nationally as a testing ground in the field of product development, research in green innovations and wants to contribute to making (elderly) care more sustainable. Recently, the main entrance of Pennemes was completely renovated by contractor Van Braam-Minnesma, and the balcony has become a green balcony by installing a plant wall of fifty square metres.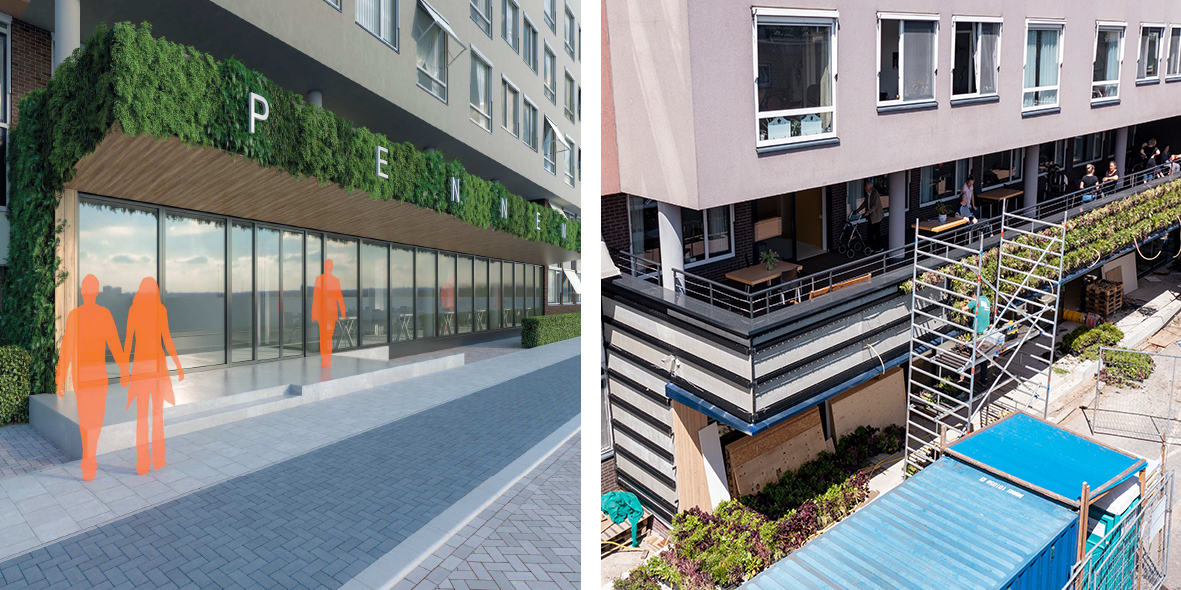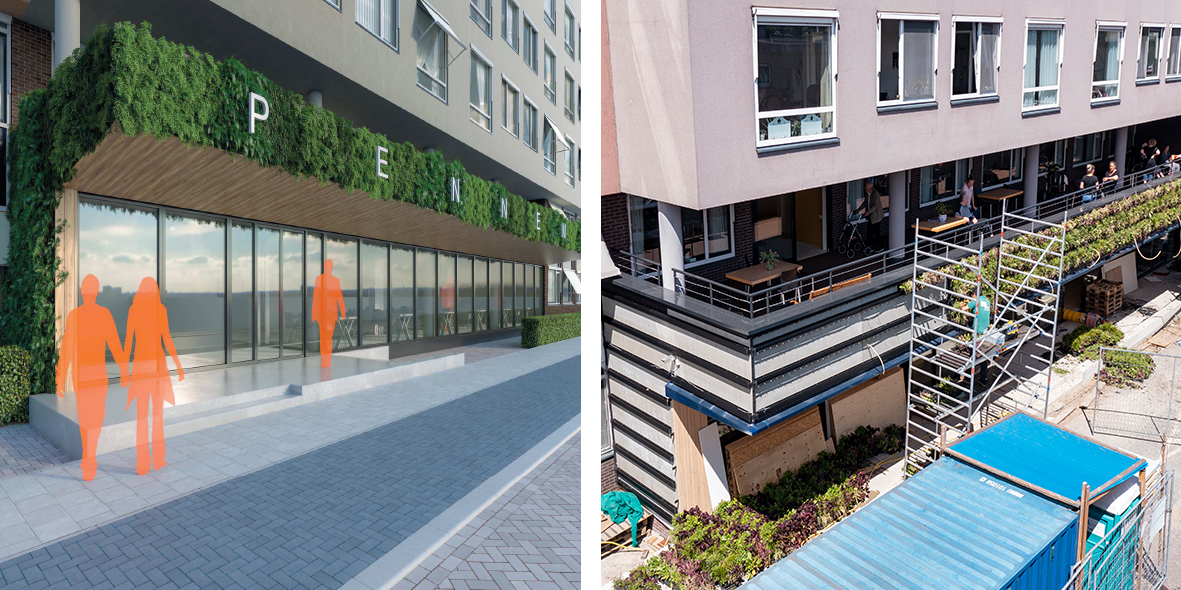 "The green balcony of Pennemes is an asset to the neighbourhood"
"Residents, local residents, stakeholders, family members and employees all react enthusiastically because the green balcony is an asset to the neighbourhood and an eye-catcher for the organization", says Leo Groenendaal – board of directors – Mennistenerf Pennemes Combinatie (MPC). "Pennemes is located in an environment with stones and grey. A green balcony contributes to the 'softening' of this grey environment. In addition, a green environment also helps against heat stress and stimulates biodiversity. In conclusion, a green balcony contributes to our green policy and image. After all, we are a healthcare institution."
"The architect FKG Architecten included a green facade cladding in his design for the extension of the canopy. This also perfectly matched the preferences and appearance of Pennemes. It was also the first time for the project team that we would use such a facade cladding, so we were very enthusiastic about it. Since Van Braam-Minnesma also attaches great importance to sustainability, we were delighted to be able to apply this sustainable system. Installing the system did cause some extra work to the construction and required some extra facilities, but the result is impressive. The construction work took place in Autumn and Winter, which is not a perfect time for planting the plants. Because this system is extremely suitable for phased installation, we have also opted for this system. The entire system and irrigation installation was installed in the Winter, the plant cassettes were placed just before the delivery of the project in Spring. The collaboration with Mobilane and the end result of the system have been to everyone's satisfaction", according to Erik Duisdecker, work planner at Braam Minnesma
Chosen for the LivePanel green facade from Mobilane
The plant wall agains the balcony of Pennemes is made with the LivePanel Outdoor façade system from Mobilane. The LivePanel system is a unique and innovative system specially developed for the application of greenery in urban areas. The green facade helps to make urban areas greener, to stimulate biodiversity, to purify the air, to regulate heat and to build climate-proof.
"Mobilane LivePanel system was chosen because it is a proven concept that provides watering and fertilizers for plants fully automatically and is also invisible. In case you want to replace plants, modules with plants can be easily disassembled and replaced. In addition, a big advantage is that the modules with young plants are grown in a controlled environment and the plant wall almost immediately look "mature", says Leo Groenendaal.
Residential and care home Pennemes
Residential and care center Pennemes is located in the heart of Zaanstad and has been providing care to the people in need in the Zaan region since 1677, almost 350 years. The residential and care home Pennemes focuses in its policy on a green, healthy living environment for residents and employees.
Leo Groenendaal: "This means that we conduct research in indoor climate (indoor air and indoor light), research in nutrition such as improving nutrients in food by directly getting vegetables from a vegetable grower who practices regenerative agriculture and also develops other initiatives that contribute to a better earth. For example, by providing shelter for an endangered swallow population by installing 200 nesting boxes, installing 500 solar panels to generate 1/3 of Pennemes' annualy electricity needs, a composting machine to compost food waste and a vegetable garden on the roof". By sharing the gained knowledge and experience, Pennemes wants to inspire other companies and organisations.