StoneX Stadium entrance adorned with living green wall
StoneX Stadium, home of Saracens Rugby Club, is positioned in beautiful green surroundings in NW4, North London. The state-of-the-art stadium has been designed and built to blend seamlessly into its stunning environment. On the outside, a living green wall adorns the high entrance. This was advised and installed by Green Level Design Ltd.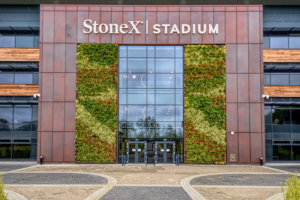 Innovative MobiPanel green wall system
The MobiPanel living wall was built, planted and installed in June 2022. This MobiPanel system was specially developed for future-proof and sustainable construction. The corrosion-resistant profiles can be installed both horizontally and vertically, depending on the format and layout of the backing wall. The profiles provide the bearing structure for the plant cassettes and the plants take up water from the internal water buffer via capillary microfibre textile. An automated irrigation and drainage system ensures an even supply of water and fertilizer. The StoneX wall contains 620 planted cassettes. It contains several species and varieties of plants including Heucheras, Geranium, Lonicera, Campanula and Bergina. All plants were chosen to increase diversity, provide year round colour and interest and attract pollinators.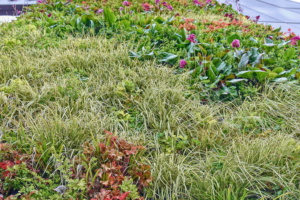 Building blends into the natural surrounding
Dee Laverty director of Green Level Design spoke to us and said "Because the stadium sits within a park and a very green recreational space, we wanted to ensure the building was as sympathetic to its surroundings as possible. The green wall also increases biodiversity, as well as being aesthetically pleasing. In addition to the new wall, we have two wildflower meadow areas and the planting chosen across the site is high in native plants and insect and pollinator friendly."
The building also has rainwater harvesting, air source and ground source heat pumps (ASHP or GSHP) solar panels, bat boxes, reed beds, hedgehogs' boxes and insect habitats. All this has resulted in a BREEAM rating 'Very Good'. "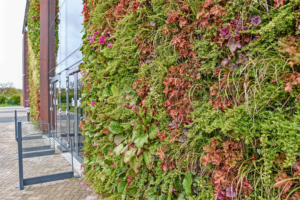 Collaboration with partners
Mobilane only works with official partners, that have excellent horticultural knowledge, and Green Level Design is such a partner.
Dee Laverty says: "We have worked with Mobilane products before on various projects and have a good relationship with them. We also work well with the operatives, who are always knowledgeable and friendly with real attention to detail.
We are very pleased with the result. There has been a very positive and good response to the wall. It is a brilliant feature at the entrance to Premiership rugby ground and Middlesex university. It is a good talking point and visitors love it."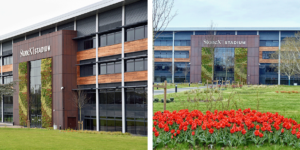 Community purpose building
The architecture of the stadium is supported by state-of-the-art audio and visual technology, including giant TV screens, LED banners on stands and entrances and pitch perfect sound. As well as providing a home for Saracens, StoneX Stadium provides conferencing & events spaces with state of the art facilities. The athletics track and indoor athletics training centre also enables the stadium to support a wide range of community initiatives. This includes amongst many others; free use of the facilities for local schools, Love to Move – a physical activity club for the older generation, a sports club for children and young people with autism, and a vocational training centre for local young people.