Neal's Yard Remedies LivePanel & WallPlanter
LivePanel
MobiPanel green wall
Location: London, United Kingdom
Dealer: Hedera Screens
Neal's Yard Remedies, the British retailer of organic natural health and beauty products, first opened its doors in 1981 in Neal's Yard, a once forgotten corner of Covent Garden in the heart of central London. The company's core belief that 'beauty should be natural, not synthetic' has been at the heart of the business operations for 35 years.
As Dom Winter, Neal's Yard Remedies' Sustainability Manager explains "Neal's Yard Remedies has a purpose-built eco factory in Dorset where we formulate and make all our products. When we expanded the factory in 2015/16 it was important for us to create (both) a great place to work, and to further minimise our environmental impact. To help us achieve this we added a new living wall in addition to the one already on the side of the warehouse".
"This new wall was inspired by the natural ingredients we use in our products and is on the side of our new marketing hub where we inspire our creative teams. It is very much in line with our view that health and beauty should be more natural, and less synthetic. It is a scented flowering living wall which also supports biodiversity such as bees, which is hugely important to us as we have been running the Bee Lovely and Save the Bees campaign for several years".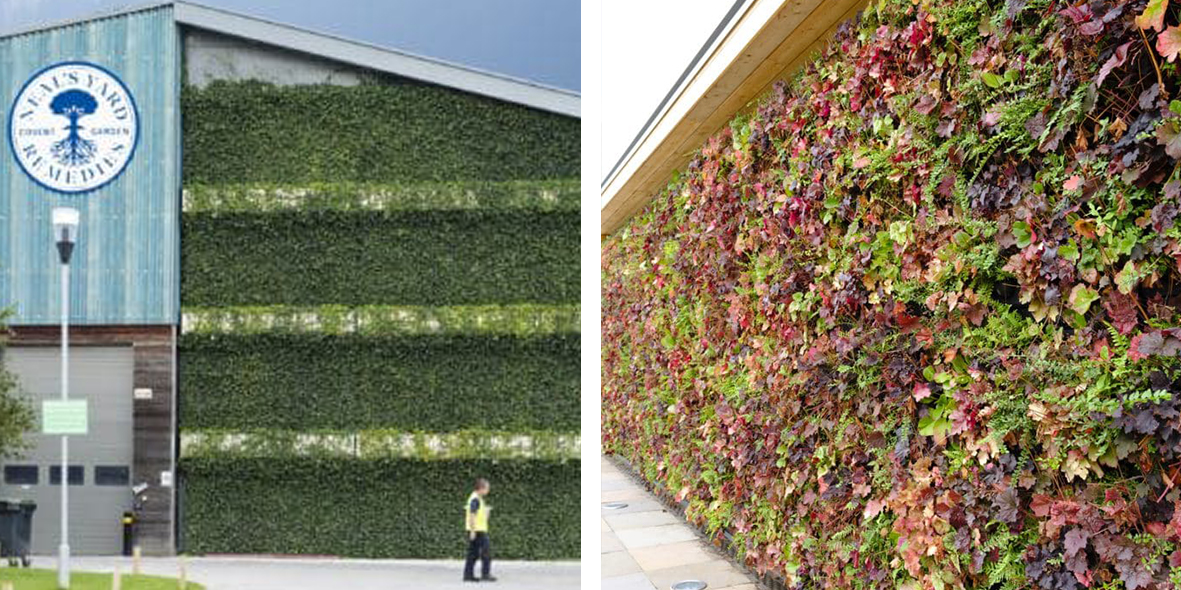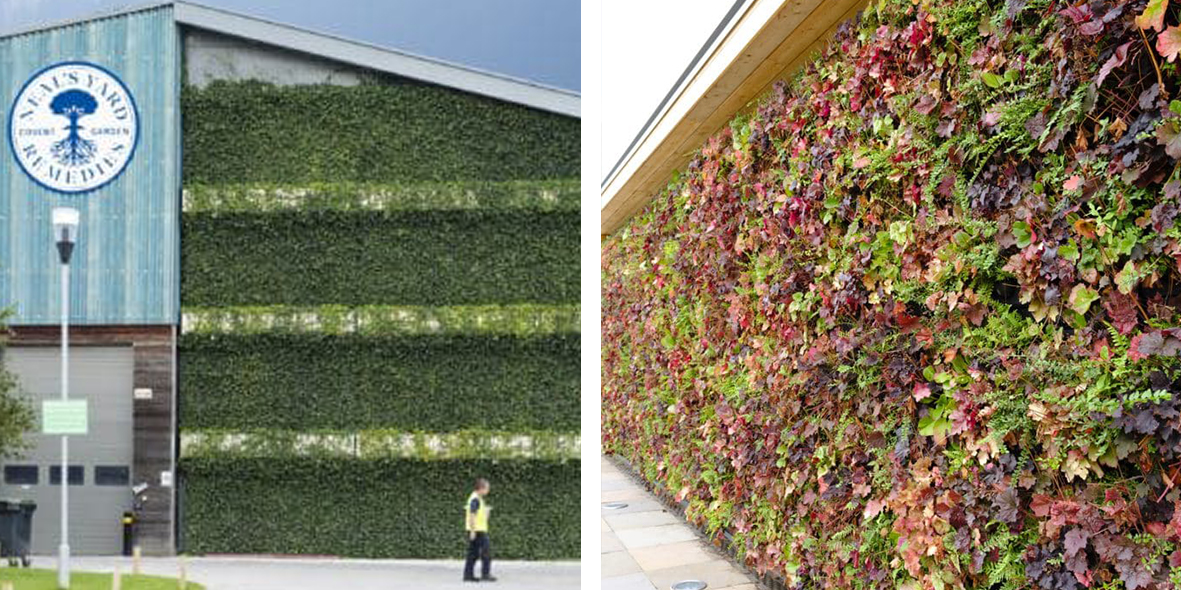 The Mobilane LivePanel and WallPlanter systems were installed in April 2016 by Hedera Screens, a Derbyshire based company established in 2007 by Alistair and Katherine Moore that specialises in domestic and commercial landscaping.
The WallPlanter system used consists of three 2.2m high Hedera Helix Woerner ivy Mobilane Green Screens in 3.9m wide galvanised aluminium boxes, resulting in a total height of 2.7m. The base of each WallPlanter box consists of 10mm of drainage matting and compost. Irrigation of the wall is through a remote automated controller system, irrigation pipe work with solenoid valves.
The LivePanel living wall comprises 143 panel cells in total, each 400mm x 400mm, and nine planting cups per cell. The plants used for the living wall are Alchemilla mollis, Bergenia Bressingham White, Bergenia Eroica (Ouverture), Campanula poscharskyana (Blue Waterfall, Geranium renardii Philipe Vapelle, Heuchera Obsidian, Hyssopus officinalis, Lonicera nitida Maigrun, Nepeta faassenii Walkers Low, Thymus praecox Pseudolanuginosus, Polypodium vulgare and Vinca minor Atropurpurea. The living wall is irrigated by a LivePanel irrigation unit to check for any faults, check timings, and is adjustable as seasonally required.
Living walls are particularly helpful in combating increased micron particulate pollutions (PM10s), as well as reducing greenhouse gases, while also improving the aesthetics of a building.