The SPEEHUIS in Oisterwijk is provided with a sustainable green roof
MobiRoof ECO
Location: Oisterwijk
The SPEEHUIS comprises the residence of Bart Spee and the office of SPEE Architecten. The design and use of materials make the house completely blend in with the wooded area. The house and office are energy-neutral and are progressively built with circular and biobased materials. The flat roof is finished off with MobiRoof ECO, the latest and sustainable green roof system from Mobilane. In total, 364 sedum cassettes were used and a green roof with a surface spanning 91 m2 is created. The extensive green roof system is ready to use and consists of recyclable plant cassettes filled with substrate and 6 – 8 different types of Sedum.
Why opt for a green roof?
"We have chosen for a green roof for three reasons. The first reason is that it regulates heat. During summer, the sedum roof ensures that it's less hot inside the house and during winter, it gives extra insulation. The second reason why we have chosen a green roof is water retention. Green roofs store water in both the plants and the underlying substrate layer. Through evaporation, water returns to the atmosphere. The third reason is the green view from above. From our bedrooms, we immediately have a view on the green roof", says Bart Spee – architect and owner of SPEE Architecten. The open space in the green roof was meant to be a vegetable garden space. Meanwhile, this open space is also covered with the MobiRoof ECO cassettes to complete the green roof and create a full green cover.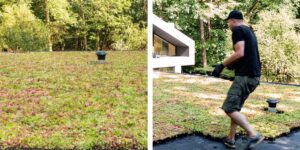 Sustainable green roof system
"We have been working with the green products from Mobilane for our projects for years. Mobilane develops and supplies innovative green systems and develops and improves their products constantly, just like us. The SPEEHUIS is a house combined with the office of SPEE Architecten and is a 'proof of concept' for healthy, sustainable and circular building. We also have chosen the latest ready-to-use green roof system called MobiRoof ECO because it is made of recycled material. In addition, compared to other systems such as sedum mats, you do not have a whole package of different layers, but it is all integrated into the cassettes. The cassettes are fast and easy to install by yourself, directly on the existing roofing. The size of the cassette is 50 x 50 x 6 cm and is very light in weight. During the construction, we took this into account and now we don't have to look at an edge and only see green", says Bart Spee
SPEE Architecten
SPEE Architecten is specialised in realising sustainable and healthy buildings that are energy-neutral, biobased and circular. The SPEEHUIS is not only unique in its appearance and location, but above all very sustainable and healthy. Next to energy-neutral building, there is also made use of circular and biobased materials, such as solid wood construction (CLT) where SPEE Architecten is specialised in. The facade and sloping roof are made of 'high density'  bamboo. The sedum roof is also a nature-inclusive measure. "By designing this way, you build for the future and architecture is more than a spatial experience", says SPEE Architects. For more information about the SPEEHUIS, go to www.speearchitecten.nl