Green Screens in the garden of Elise Schaap
26 February 2021
Elise Schaap loves to drink her coffee every morning in her garden in the middle of Amsterdam in the Netherlands. Last Summer, together with her husband Wouter and garden designer Erwin Stam, Elise has given a makeover to her backyard, with the following end result: a beautiful garden with green, ambiance and organic shapes as the main focus.
The Mobilane Green Screens were chosen by Elise and Wouter as a boundary fence. A green and sustainable fence with instant green result. "With the Green Screens, a garden is instantly green and has a finished look. When you look outside, you have a nicer view than when you look at a grey fence."
Elise, where do you get inspiration for your garden?
Before we started to redesign the garden, I collected pictures on Pinterest. When we started to work with Erwin Stam, we were able to show what kind of ambiance we wanted to create.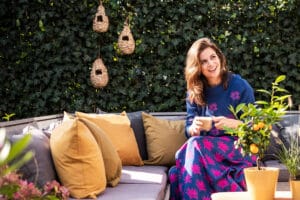 What do you think is important when designing the garden
It should not be too neat. Our garden has a rectangle shape. The round shapes makes the garden become more organic.
Why did you choose the Green Screens from Mobilane?
This beautiful fully-grown wall has the same feature as a plasterered wall in a house: it is instantly beautiful and it has a finished look. In addition, when you look outside, you have a nicer view than when you look at a grey fence.
What is your favorite spot in your garden and why?
That is a tough one, we have several spots where we like to sit down. However, I am a morning person and the sunrays fall on the front terrace. Enjoying the sun with a cup of coffee on the front terrace, love it!
Do you have any tips for designing the garden?
When designing our garden, we also included lighting. This makes that the garden is not only used during the day but you can also use the garden in the evening when for example you want to read a book.
Think about biodiversity and opt for plants that grow during different parts of  the year. This ensures that you can enjoy colours in the garden throughout the year.
About Elise Schaap
Elise Schaap is a Dutch actress and singer well known for her role in Undercover on Netflix and TV Kantine on RTL (a Dutch tv channel). In 2019 and 2020, Schaap won the best actress of the year award from Gouden Televizier-Ring Gala, an important Dutch audience award for television programs. She lives in Amsterdam with her husband, actor Wouter de Jong and her daughter.
About Mobilane Green Screens
Mobilane Greens Screens are pre-grown hedges available in different sizes with different types of plants. The Mobilane Green Screen is well known for its quality and sustainable production process. The hedge is grown in biodegradable container made from coconut fibres. The Mobilane Green Screen brings an instantly full and dense hedge and can be planted all year round.