Blue Lagoon – the new exotic plant mix by Mobilane
30 December 2022
Mobilane introduces a new plant mix with houseplants for their Live-products such as LivePanel, LivePicture and LiveDividerPLUS. This mix stands out for its unique colour combination. The Phlebodium Davana has a grey-blue look and the special leaf pattern of the Scindapsus Pictus gives it a playful and contemporary character. It's the ideal mix for giving a room a makeover on a small scale.
Exotic plant mix
The new exotic plant mix, that is available to order from now on*, contains a combination of the following five plants; Phlebodium Davana, Asplenium parvati, Scindapsus pictus, Philodendron Green Princess and Philodendron scandens. This plant mix thrives best in a spot in semi-shade and do not like dry air. Nine plants fit in the cassette. All plants appear twice except the Philodendron Green Princess, which is planted in the middle for optimum colour composition.
Philodendron scandens has heart-shaped, glossy leaves that emerge bronze coloured and then turn bright green. The Green Princess, on the other hand, has slightly longer and narrower leaves that turn glossy dark green. The Davana is a remarkable appearance due to its grey-blue colour and gracefully curly and jagged leaves. In addition, in terms of durability, the plant is strong and easy to care for.
Scindapsus is related to the Dieffenbachia and also has large leaves with unusual markings. The plant is potentially toxic to pets, so beware of this when placing it. Asplenium parvati, also called Mother Fern, gives the whole thing a somewhat rugged jungle look. The leaves are finely incised and look a glossy dark green.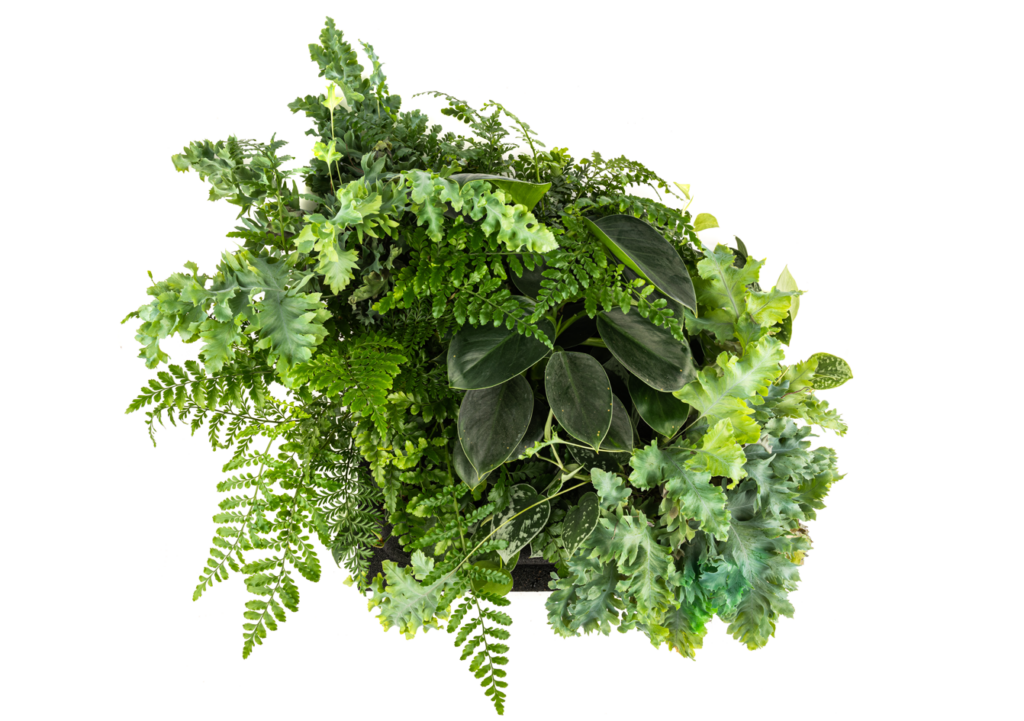 Scientifically proven air purification
Air quality in offices, homes and public buildings is affected by things like PCs, printers, paint and heating but also by people themselves. NASA and Phytagoras have shown in research that some plants are able to better absorb toxic substances from the air and thus clean the air. Phlebodium Davana is one such plant whose healthy effects have been scientifically proven. The presence of this plant purifies the air and results in improved well-being, more pleasant working and living conditions and therefore less sick leave.
*The cassettes with the pre-cultivated Blue Lagoon mix have a delivery time of about 3 months.