VDG Warehouse Schiphol II opts for nature-inclusive building with MobiPanel green facades
MobiPanel living wall
Location: Hoofddorp, The Netherlands
VDG Property Development has recently joined forces with their own construction company Unibouw to develop the new VDG Warehouse Schiphol II. The new building is equipped with a total of 636.5 square meters of vertical greenery divided into two green walls with the MobiPanel system.
In addition to the sustainability requirements, BREEAM-NL certification 'Excellent', this also enables the building to meet the high-quality requirements in the areas of nature inclusiveness, biodiversity, ecology and living environment. The green appearance of the buildings is the 'new normal' at the business park. Schiphol Trade Park aims to be the most sustainable and innovative business park in Europe.
'The area developer and the ambitions of the Schiphol Trade Park area set high requirements in the area of nature inclusiveness. For example, 95% of the end walls of the building had to be green upon completion. The green facades give the building a fantastic appearance. Nature inclusiveness is becoming increasingly important in project development and this is also the future. It will make the Netherlands look all the better,' says Richard van Campen – project manager at Unibouw B.V.
Nature-inclusive building
For the development of VDG Warehouse Schiphol II, design choices were made that enhance the ecological value for the surrounding area. For example, the warehouse not only facilitates an efficient logistic process but also creates space for more greenery and biodiversity.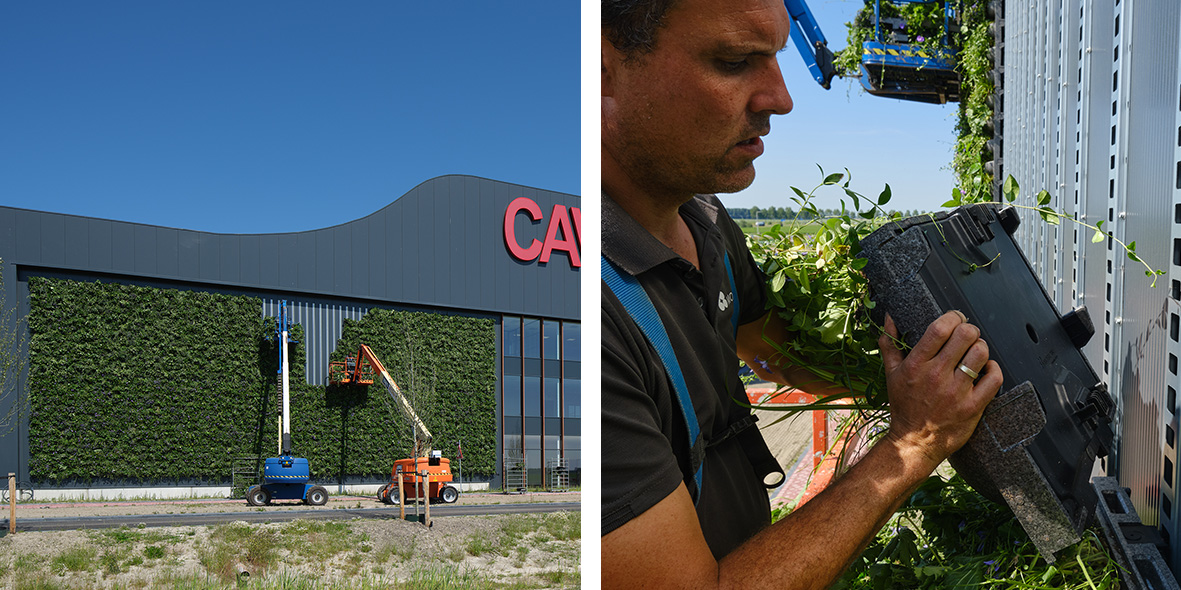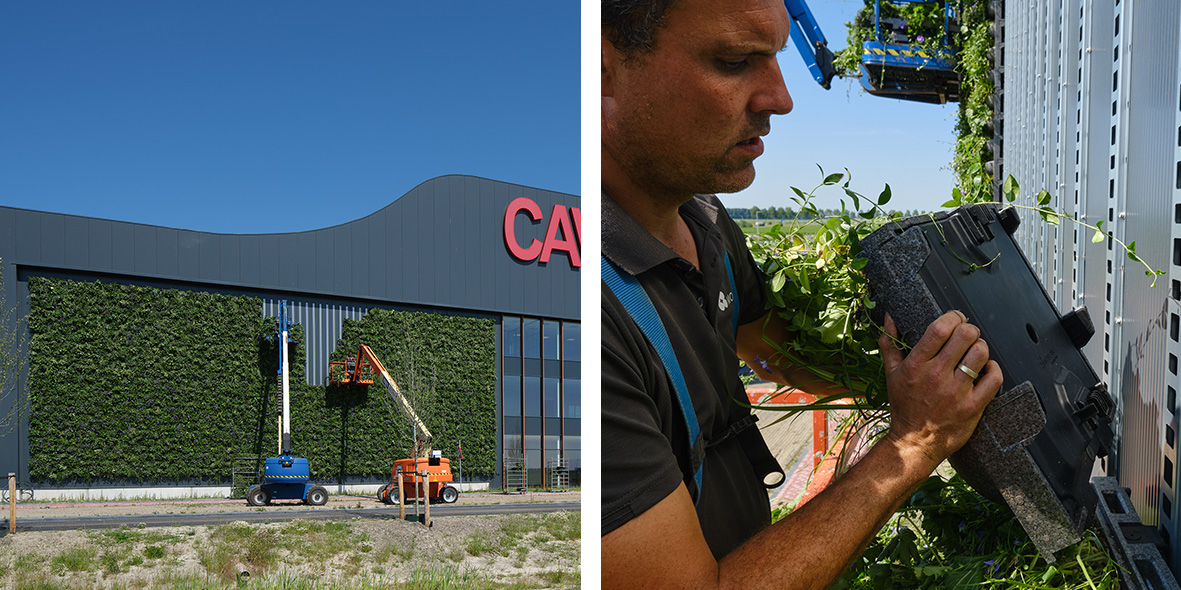 Diversity in plant species
For each façade, the climatic conditions have been examined and the choice of plants has been adjusted accordingly. The green façade oriented to the North-West contains the plant species; Campanula Stella, Alchemilla Molis, Vinca Minor, Lonicera Maigrun, Geranium Rozanne, Carex Oshimensis 'Evergreen', and Bergenia Bressingham White. In the green façade oriented to the southeast are the plant species; Alchemilla mollis, Dryopteris Erythrosora, Bergnia Bressingham White, Lonicera Maigrun, Riarella cordifolia, Carex Oshimensis 'Evergreen', Asplenium scolopendrium and Geranium Spessart. In total, there are approximately 23,400 plants in both green walls.
VDG Warehouse Schiphol II
VDG Warehouse Schiphol II comprises 9,636 m2 of modern logistics space and consists of two units. With green facades and panels on both sides, VDG Warehouse Schiphol II presents itself as an extremely sustainable distribution centre. With its ecological elements, the development is not only connected to the surrounding nature, but also to the adjacent distribution centre where a MobiPanel green facade has also been installed.
Client: Unibouw
Architect: VDG Real Estate
Construction period: 2022
Installation: Mobicare