Plant walls in the new office of Online Marketing Agency iClicks
In the new office of Online Marketing Agency iClicks in Lelystad, Mobilane LivePanel Indoor plant walls have been installed. The green walls were installed by the official Mobilane dealer Urban Green Luxury, designer and installer of vertical gardens. Urban Green Luxury has installed green walls on 3 different floors, one green wall spanning 5.8 m² and two walls spanning 4.69 m². Online Marketing Agency iClicks has been the online partner for SMEs for 10 years now. For the new office of iClicks, living green walls were chosen as an addition to the interior. The plant walls in the new office are real eye-catchers on every floor.
Plant walls on three different floors
The plant walls are placed on three different floors and cover the walls from top to bottom. The owner of iClicks spent a year designing the office and wanted to add living green to the workplace. Greenery in the workplace ensures a healthy indoor climate and increases the productivity and creativity of the employees. The office is designed with materials such as glass and oak. As a result, a plant wall had to be chosen that fits well with this interior. According to Dik Pluimert from Urban Green Luxury, the LivePanel Indoor from Mobilane was chosen for "the slim design of the system". "This system is technically well in design, does not stand too far from the wall and does not take up much space". The first green wall is placed at the entrance for receiving guests, the second green wall is placed in the canteen and the third green wall is placed in the corner of the kitchen.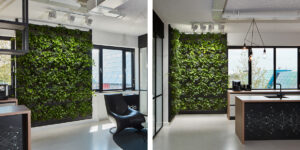 LivePanel Indoor green wall system
LivePanel Indoor is a unique and innovative green wall system in the field of vertical greenery. The green wall system contributes in a simple way to greening and creating a healthy indoor climate. A LivePanel Indoor green wall is completely designed according to one's own taste through freedom of design and choice of plants. The plants in the green wall at iClicks had to be a dark green colour and not contain any other colours. The plant walls at iClicks are planted with plants such as Epipremnum aureum, Schefflera and Dracaena. The installation of the LivePanel Indoor can be realised easily and fast. "The installation was fine, the system works very simply," says Dik Pluimert.
The LivePanel Indoor is a living green addition to the interior. Both the owner of iClicks and Urban Green Luxury are satisfied with the end result. "The plant walls are placed on 3 floors and when you walk out of the elevator, it is a treat to the eyes when you see the plant walls!" said Dick Pluimert. Looking for a way to apply green walls? View the possibilities of LivePanel Indoor.