Instant green hedges for The Wall Shopping Centre Utrecht
Around the Shopping Centre 'The Wall' in Utrecht, 175 meters of instant green hedges from Mobilane have been installed. A total of 132 Hedera helix Woerner Green Screens of 1 meter high have been installed by Van der Veen Groenprojecten. The hedges serve as a separation for bicycles and the capture of fine dust. The Mobilane Green Screens are fully grown and provide an immediate green look to the area surrounding the Wall.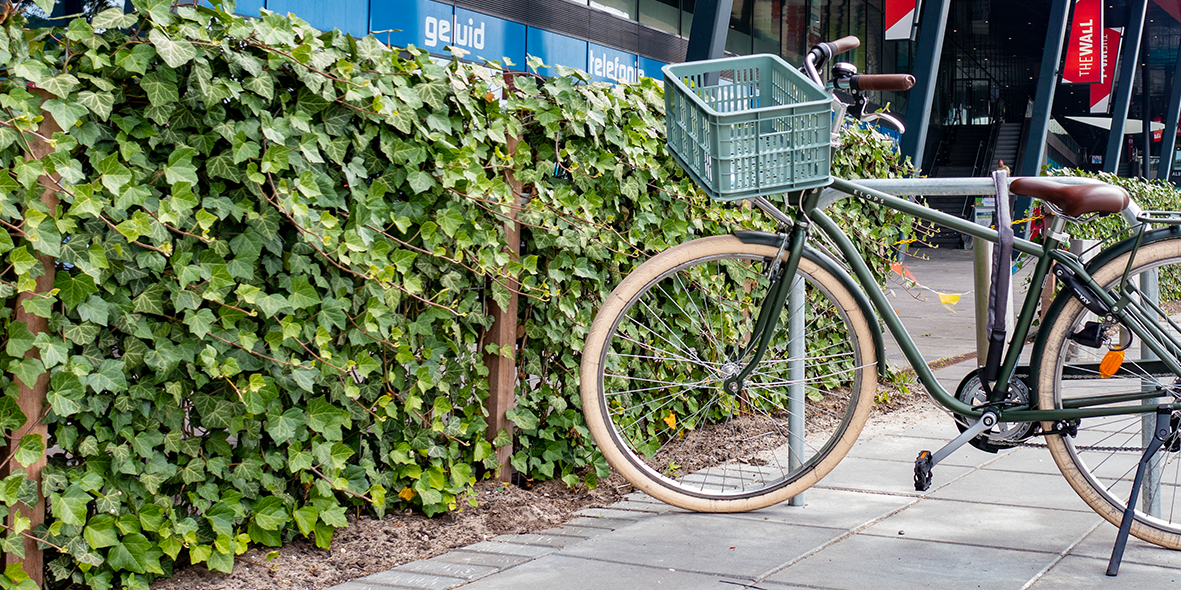 Shopping centre The Wall in Utrecht
The Shopping Centre The Wall in Utrecht is located next to the river Leidsche Rijn and is one of the largest new-build locations in the Netherlands. The Wall is easily accessible. It is a shopping Centre and at the same time, it functions as a noise barrier for residents living near the A2 close to Utrecht. An eye-catcher that evokes curiosity and attracts visitors. The Wall offers space for shops, catering, leisure and events divided over 5 floors. Companies located in The Wall welcome more than 1.5 million visitors a year.
The second longest building in the Netherlands
With a length of 800 meters, the Wall is the second longest building in the Netherlands. The Wall was designed by architect Fons Verheijen. The length of the Wall inspired architect Fons Verheijen to pay plenty of attention in the design of the aspect of time and the experience of the passing road users. The red wavy roof gives the illusion of moving when you pass the building. The Wall is a futuristic combination of a noise barrier and a building in one. This makes the building unique. The length of 800 meters also impresses visitors and people who pass by. Because of the special shape and the unique detailing, this project attracts worldwide attention. During the BouwBeurs in Utrecht, the MDG Architecture Prize was awarded to architect Fons Verheijen of VVKH architecten for project The Wall.

Instant green hedges at The Wall
The Mobilane Green Screens installed around The Wall is renowned for its quality and its manufacture in a sustainable production process. Due to the availability of different types of plants and different sizes, an instant green appearance can be created as desired. A few benefits of the Mobilane Green Screens
Benefits:
1. Instant privacy and greenery
2. Easy to install and maintain
3. Contributes to a healthier environment
4. PM10 Clean air / air quality
5. Stimulates biodiversity
6. Durable and attractive boundary option
7. Prevention of graffiti
Interested in instant green hedges? Have a look at the possibilities of the Mobilane Green Screens.