Instant green hedges at The Wall shopping mall in Utrecht
No less than 175 meters of instant green hedges by Mobilane have been placed around the The Wall shopping mall in Utrecht (NL). To achieve this, Van der Veen Groenprojecten installed a total of 132 one-meter-tall Hedera helix "Woerner" Green Screens. The hedges serve to segregate a cycle lane — and as an added benefit, they capture fine dust particles. Mobilane's Green Screens are supplied fully grown, so they've instantly transformed the area surrounding The Wall into an oasis of greenery.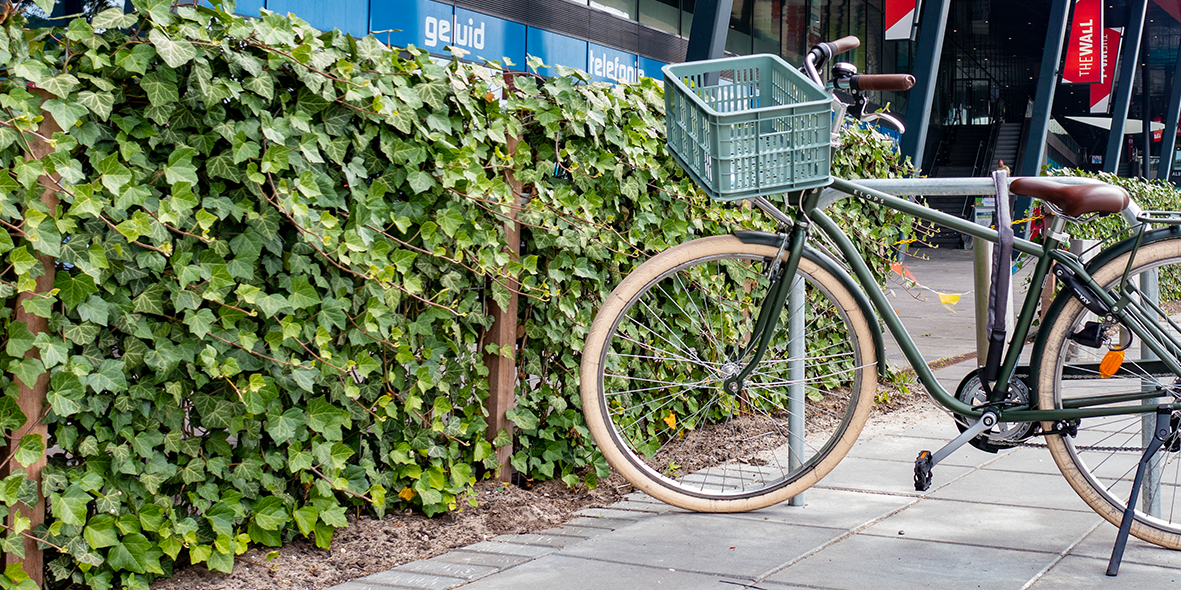 The Wall shopping mall in Utrecht
The Wall shopping mall in Utrecht (The Netherlands) is located next to the Leidsche Rijn river and is one of the largest new-build locations in the Netherlands. It is super-easy to get to, and while the building's main function is a shopping mall, it doubles as a noise barrier for residents living near the A2 motorway close to Utrecht. As a real eye-catcher that never fails to pique the interest and attract visitors, The Wall offers space for shops, restaurants, leisure, and events split across five levels. The businesses located at The Wall welcome more than 1.5 million visitors a year.
The second-longest building in the Netherlands
With a length of 800 meters, the Wall is the second-longest building in the Netherlands. The Wall was designed by architect Fons Verheijen. The length of the building inspired Fons to really consider the aspect of time and the experience of the passing road users in his design. The red wavy roof almost seems to move when you pass the building. The Wall is a futuristic combination of a noise barrier and a building in one, and that makes this building unique. Its length of 800 meters never fails to impress visitors and passers-by. Owing to its special shape and unique detailing, this project has attracted attention from around the globe. As a crowning achievement, Fons Verheijen of VVKH architecten received the MDG Architecture Prize for The Wall during the BouwBeurs construction trade fair in Utrecht.

Instant green hedges at The Wall
The Mobilane Green Screens installed around The Wall are renowned for their sustainable production method. With different types of plants available in different sizes, clients can create an instant green appearance exactly as they had envisaged. Below, we've listed just a few benefits of Mobilane Green Screens:
Benefits:

Instant privacy and greenery
Easy to install and maintain
Contributes to a healthier environment
PM10 Clean air / air quality
Boosts biodiversity
Durable and attractive boundary option
Prevents graffiti
Interested in instant green hedges? Take a look at what's possible with Mobilane Green Screens.