LiveDivider PLUS voted Good Industrial Design
18 October 2022
Mobilane's LiveDivider PLUS has been voted 'Good Industrial Design' and can therefore be seen at the Dutch Design Week. Each year Designlink offers a representative overview of the 100 best products, designed in the Netherlands or by Dutch designers and design agencies. They call it GIO (Good Industrial Design) TOP100. These products are then part of their week-long exhibition at the Dutch Design Week in Eindhoven.

GIO top 100
Every year, Designlink publishes a list of the hundred best-designed Dutch products, called the GIO Top 100, or G100 for short. They do this to raise awareness of Dutch designs. The organization looks for designs that not only function well, are user-friendly and look nice, but also provide a solution to an actual problem. During Dutch Design Week (from 22 to 30 October) in Hall 3 of the Klokgebouw, Designlink will present a large number of products from this G100, as well as concepts and cases from leading design agencies and companies.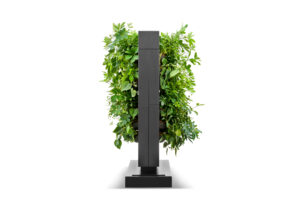 LiveDivider PLUS is Good Industrial Design
The modular green room divider LiveDivider PLUS, was chosen for the G100 because of its unique system and sleek design. With this unique system, modules with interchangeable plant cassettes can be stacked on top of each other as required. This creates more freedom to divide a room flexibly and bring living greenery close to people. This makes the room divider highly suitable for applications in, for instance, offices, waiting rooms, hotels, public buildings. The room divider can also be used to create walking routes. The plants directly increase the well-being of employees and visitors. LiveDivider PLUS creates more privacy and distance while maintaining the open character of the room. In times when indoor climate and mental well-being are increasingly important, the LiveDivider PLUS offers a solution.
Dutch Design Week
Dutch Design Week (DDW) takes place in Eindhoven every October. The largest design event in Northern Europe presents work and ideas by more than 2,600 designers. They welcome more than 350,000 visitors from home and abroad. At more than 110 locations in the city, DDW organises and facilitates exhibitions, lectures, award ceremonies, networking events, debates and festivities. Although every conceivable discipline and aspect of design is covered during the event, the emphasis is on experimentation, innovation and crossovers. Exceptional attention is paid each year to the work and development of young talent.
DDW focuses on the design of the future and the future of design. The aim is to show how designers from all over the world are shaping a positive future and to strengthen the position and significance of Dutch designers. The LiveDivider can be seen in Klokgebouw Hall 3 (Strijp-S) from 22 to 30 October.