Natural green in the atrium, office of the Sartorius Group
LivePanel
Location: Göttingen, Germany
The large wall of the Mobilane LivePanel system creates a warm atmosphere and a positive, inspiring atmosphere in the Sartorius Group office. Sustainability, openness and satisfaction are the corporate values of the Sartorius Group and form the basis for its innovative and competitive strength. These values are already apparent on entering the light-flooded atrium at the Göttingen site. The innovative and at the same time representative redesign of the atrium creates a health-promoting environment for employees and visitors.
The positive effects of green space
Three planted walls with a total area of 95 m² and a maximum height of about nine metres, a large tree and a large planting bed around the espresso bar enrich many aspects of daily work. The plants significantly improve the indoor climate: the air is cleaned, odours and dust are absorbed and humidity is increased. In addition, the vertical plant wall in particular effectively absorbs the incoming noise. This makes the room much quieter and improves the general background noise.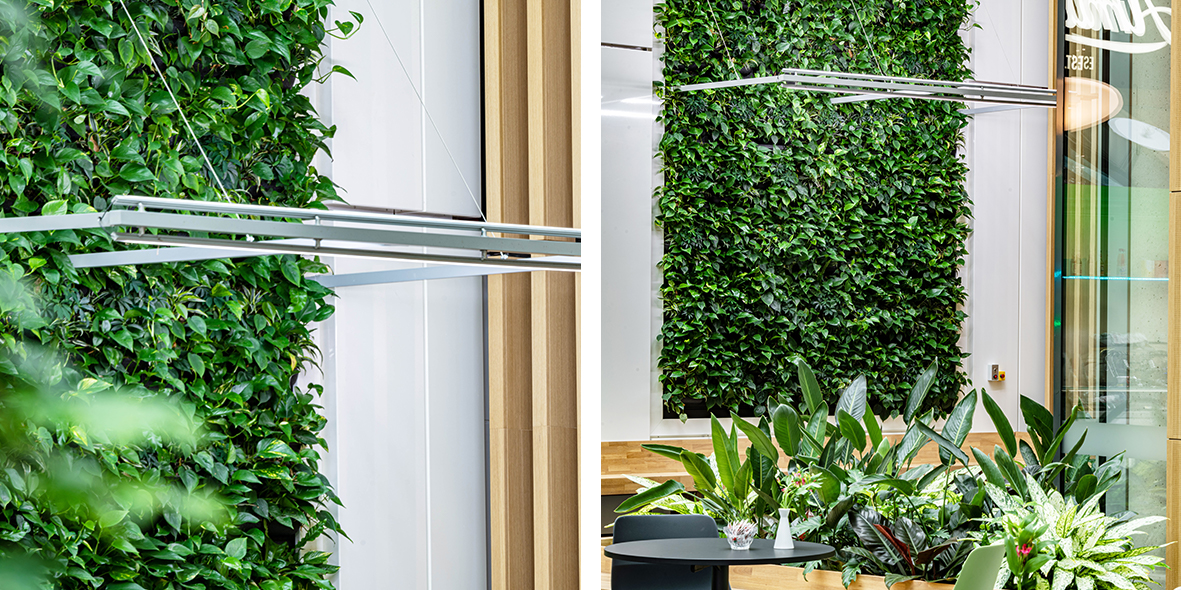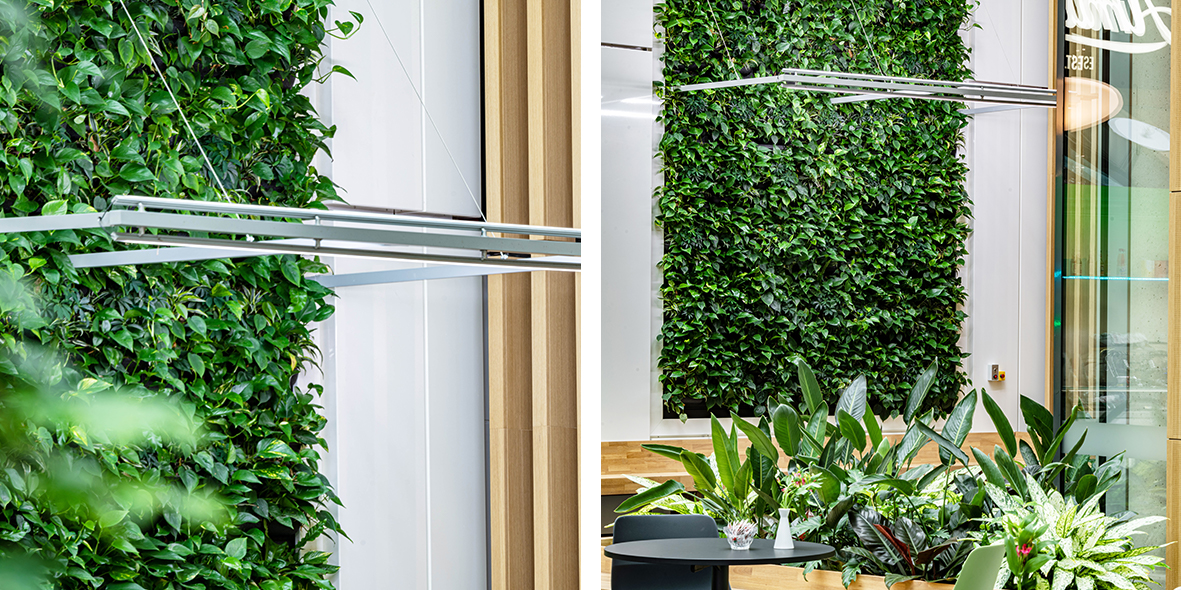 A modular green plant wall system
The architects were impressed by Mobilane's patented LivePanel system. It is a modular, green wall system with interchangeable plant cassettes that instantly transforms bare, cold walls into a warm, vibrant surface for any interior.
The nutrient-filled plant cassettes have slots in which the plants are placed. The module measures 40 x 40 cm and can hold up to nine plants. A total of 471 plant cassettes were installed in the atrium. The Epipremnum Aureum, Asplenium nidus, Dracaena Lemon Surprise, Schefflera arboricola and Philodendron, among others, were incorporated into the wall and offer employees and visitors a green, fresh look all year round.
The installation of the LivePanel system is quick and easy. Each row of cassettes is placed in a gutter profile that also serves as a water reservoir. Mobilane's LivePanel is very slim and space-saving. The weight of the planted system is 40 kg per m².
The sustainable positive result of plants
After the installation of the system, the work is not finished yet. The LivePanel system is also carefully maintained after delivery. A visual inspection of the installations and the technical components is carried out several times a year. In addition, three to four times a year a major inspection takes place with a detailed inspection of the plants, a necessary pruning, an intensive inspection of the irrigation, the sensors and, if necessary, an exchange of plants takes place.