Garden trend: green wall
30 April 2021
A green wall in the garden is a trend that is becoming increasingly visible. In gardens where a lot of grey and concrete was present is now making way for ambiance and greenery. Gardens are transformed into true green oases. A good design of the garden with greenery is therefore important. In addition to the Mobilane Green Screens which can be used as a boundary fence or to hide walls with greenery, there is also the option to place a vertical plant wall in the garden. With the LivePanel PACK, one can easily add greenery and create a vertical garden.
A green wall system with quick and easy installation
A green plant wall is a true eye-catcher in the garden. In a garden where there is not enough space to install the Green Screens, the vertical green wall system can be used to add greenerey in the garden. The LivePanel PACK, available in 4 standard sizes, can be installed on the wall but it is also possible to install it on a fence. The living wall is quick and easy to install.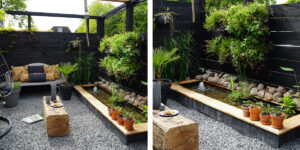 Benefits of a green wall in the garden
A wall with plants in the garden is not only aesthetically pleasing, it also brings many benefits. A LivePanel PACK stimulates biodiversity. A living wall attracts various types of birds, butterflies and insects. Birds can, for example build a nest in the plant wall. A plant wall can also serve as food. The plants in the LivePanel PACK also produce oxygen and improve air quality. In urban areas where greenery is not abundantly present, a green wall comes in handy.
Cool down the garden temperature with greenery
During hot Summer days, it can be too hot to sit down and relax in the garden. Greenery provides shade and cooling in the garden. The bigger the amount of greenery, the more effect is created. It is therefore advised to place garden furniture and lounge sets near treas, plants or vertical green.
The right plants for a vertical green wall
The plants for the living wall can be chosen according to own preferences. You can choose outdoor plants such as Ferns or Lady's Mantle or have a look at the PlantGuide for an overview of selected plants that are suitable for the LivePanel PACK.
Interested in a LivePanel PACK? Go to the contact page.