Sustainable building: Living wall and solar panels in unison at University of Lincoln Medical School
LivePanel
Location: Lincoln
Dealer: Inleaf
Welcoming tomorrow's doctors today at Lincoln Medical School is a 110 square metre living wall, full of healthy greenery and packing a sustainable punch alongside the building's photovoltaic solar panels.
Blending tech with nature
As the £21 million state-of-the-art building took shape throughout 2020, installers Inleaf worked with contractors BAM Construction on how to best integrate their living wall design with the planned solar frontage and associated technology.  Whilst its construction continued into Winter 2020, Inleaf set to the installation of the vertical landscape's profiles, preparing the irrigation system and ensuring the brickwork, panels and living wall would work seamlessly together. Striving for BREEAM status, it was particularly important for the building to realise its sustainability, renewable energy, air quality and environmental goals.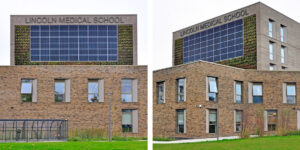 Living wall flexibility and simplicity
The Mobilane LivePanel Outdoor system was selected for maximum flexibility here, allowing for the design and fitting with consideration of the adjacent solar tech, irrigation and amenities. Fitting the slotted cassettes into the pre-installed profiles, Inleaf completed the install with 5000 plants that they had pre-grown and held until the building was complete. Inleaf's team and specialist abseiling operatives set to the completion of the vertical green wall with the plants being added at the beginning of April 2021.
Planted by design for visual impact of Lincoln Medical School
Such an expanse of plants needs planning and forethought. The design incorporates swathes of colour using Carex grasses, Heuchera and Alchemilla for rich colours and leaf shape, Pachysandra for contrast and Bergenia for a hint of delicate flower amongst the leafy tapestry.
The natural, healthy beauty of a living wall
With a regular maintenance programme in place, Inleaf can ensure the living wall looks at its optimum throughout the seasons.  Its irrigation is automated, fitted in three zones, and ensures the best in water preservation and efficiency. BAM Construction are pleased with the end result and the successful partnership between solar energy and the air purifying natural properties of the living wall. University visitors have commented on the breath-taking first impression the living wall extends to all who use the Brayford Pool campus.