WallPlanter Living wall system: O2 Arena London
One of the highest-profile Mobilane WallPlanter living wall systems thrives at the O² arena in London. The wall, which is one of the biggest in the country, was installed in January 2007 and is a verdant testament to the viability of well designed and maintained living walls. To date, none of the plants has needed to be replaced.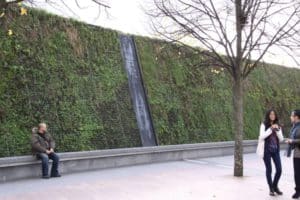 Low maintenance living wall
The site owner had a need for a barrier to shield visitors from construction work on nearby housing development. Mobilane supplied a simple three-tier living wall system which was installed on an open steel structure. The 150m long, 8m high wall took just over a week to install and requires minimal maintenance.
The ivy WallPlanter system at the O² Arena in London, installed by Willerby Landscapes, looks fantastic and continues to provide the client with a low maintenance living wall which has established itself as an integral part of the site.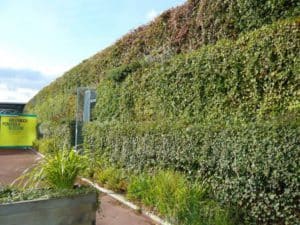 The wall will continue to thrive for many years to come or until it is removed if ever that day comes.
Mobilane has recently added to its living wall system portfolio with the innovative LivePanel modular system. LivePanel was developed with a view to ensuring a lightweight construction suitable for all buildings, together with an environment and substrate in which plants can thrive. This is coupled with extremely efficient watering and feeding systems.
LivePanel presents the market with the most flexible system for decorating exterior or interior walls with a wide range of plants. LivePanel consists of individual sections which are fixed to the wall or building using lightweight aluminium.